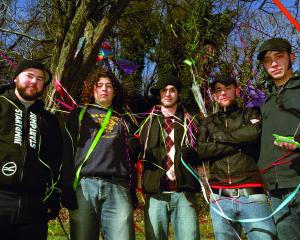 After a short hiatus, Giving Chase has returned with the addition of new drummer Brian Berwind (ex-Frail, Canon, Shatterhook) to the band, replacing the vacancy left by former drummer Carlin Brown. The band has entered Studio 4 with producer Will Yip this weekend to lay down tracks for a new 7" to be released in the fall.
The band will be appearing at This is Hardcore Fest 4, which is happening August 14-16 in Philadelphia, before heading across the pond for a three week run in Europe with the UK's A New Day starting September 18.
The band last released A Cheap Print of a Masterpiece in 2007.
| | | |
| --- | --- | --- |
| September 18, 2009 | Worcester, UK | Evolution |
| September 19, 2009 | Bridgend, UK | Hobo's |
| September 21, 2009 | Portsmouth, UK | The Edge of the Wedge |
| September 22, 2009 | Stoke-on-Trent, UK | Harry's Bar |
| September 23, 2009 | Antwerp, Belgium | De Rots |
| September 24, 2009 | Arnheim, Netherlands | Willemeen |
| September 25, 2009 | Bergkamen, Germany | JZ Yellowstone |
| September 26, 2009 | Hillentrup, Germany | Papermill |
| September 30, 2009 | Ljubljna, Slovenia | Tovarna Rog |
| October 1, 2009 | Graz, Austria | Musichouse |
| October 2, 2009 | Wiener Neustadt, Austria | Triebwerk |
| October 3, 2009 | Davos, Switzerland | The Box |
| October 5, 2009 | Lunen, Germany | Club Doom |
| October 6, 2009 | Münster, Germany | Sputnikcafe |