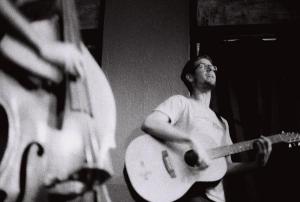 Andrew Jackson Jihad have put new the album artwork, tracklisting and two downloadable songs from their upcoming LP Can't Maintain. You can check it out here and download the two tracks "Evil" and "Who Are You."
The band released Only God Can Judge Me in 2008, Pug Life (a split with Apocalypse Meow) and their contribution to the Under the Influence series this year.
This summer they'll be heading out on tour with bands like Bomb the Music Industry!, Vision of a Dying World and O Pioneers!!! - those tour dates are below.
| | | | |
| --- | --- | --- | --- |
| Jul 16 2009 | 8:00 pm | Trunk Space with Bomb the Music Industry and Partners in 818 | Tour Kickoff!!, Arizona |
| Jul 19 2009 | 8:00 pm | Rhinoceropolis!! | Denver, Colorado |
| Jul 20 2009 | 8:00 pm | Ghost House | Lincoln, Nebraska |
| Jul 21 2009 | 8:00 pm | Triple Rock with Kevin Seconds and Kepi Ghoulie | Minneapolis, Minnesota |
| Jul 22 2009 | 8:00 pm | Colin's House with Kevin Seconds and Kepi Ghoulie | Appleton, Wisconsin |
| Jul 23 2009 | 8:00 pm | Midwest Fest 2009! | Mount Pleasant, Michigan |
| Jul 24 2009 | 8:00 pm | The Beat Kitchen with Kevin, Kepi, and The Bomb! | Chicago, Illinois |
| Jul 26 2009 | 8:00 pm | 222 Ormsby with Delay! | Pittsburgh, Pennsylvania |
| Jul 27 2009 | 8:00 pm | 99 Custer with Delay, Destroy Nate Allen and mo'! | Buffalo, New York |
| Jul 28 2009 | 8:00 pm | Cafe Metropolis with Delay! | Wilkes Barre, Pennsylvania |
| Jul 30 2009 | 8:00 pm | Asbury Lanes | Asbury Park, New Jersey |
| Aug 2 2009 | 1:00 pm | Middle East Upstairs MATINEE SHOW | Boston, Massachusetts |
| Aug 2 2009 | 8:00 pm | Chris's House | Windsor, Connecticut |
| Aug 3 2009 | 8:00 pm | Charm City Art Space with Delay | Baltimore, Maryland |
| Aug 5 2009 | 8:00 pm | Nara Sushi with Delay! | Richmond, Virginia |
| Aug 6 2009 | 8:00 pm | Soapbox Laundrolounge | Wilmington, North Carolina |
| Aug 7 2009 | 8:00 pm | Broad Street Music | New Bern, North Carolina |
| Aug 10 2009 | 8:00 pm | Transistions Art Gallery with Vision of a Dying World, TransFM, Paper Cranes | Tampa, Florida |
| Aug 11 2009 | 8:00 pm | 1982 with Vision of a Dying World | Gainesville, Florida |
| Aug 12 2009 | 8:00 pm | Wonderroot with Vision of a Dying World | Atlanta, Georgia |
| Aug 13 2009 | 8:00 pm | Chaosome with Vision of a Dying World | Lexington, Kentucky |
| Aug 14 2009 | 8:00 pm | Skull Alley with Vision of a Dying World | Louisville, Kentucky |
| Aug 15 2009 | 8:00 pm | Firebird with Vision of a Dying World | St. Louis, Missouri |
| Aug 17 2009 | 8:00 pm | Vino's with Vision of a Dying World | Little Rock, Arkansas |
| Aug 18 2009 | 7:00 pm | 1919 Hemphill with O Pioneers!!! | Fort Worth, Texas |
| Aug 19 2009 | 8:00 pm | Convivio with O Pioneers!!! (?) | Las Cruces, New Mexico |