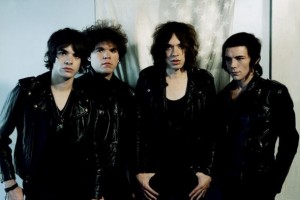 Garage rock act Living Things have been enlisted to play the Ramones in the forthcoming biopic of The Runaways. Production on the film began earlier this year and Kristen Stewart of Twilight has been cast as Joan Jett.
Living Things spoke to Spinner about how it came together:

[Frontman] Lillian [Berlin]'s wife, Floria [Sigismondi] is directing the film. She asked us if we wanted to be in the Ramones in a scene that takes place at Rodney Bingenheimer's English disco.
The challenge, according to the band was:

Pretending like you don't give a s--- about you're wearing, even though you know Johnny Ramone obsessed over their image.
The film is expected in 2010.