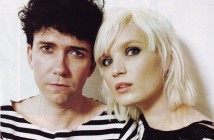 The Raveonettes have announced their next full length. The record is titled In and Out of Control and is due out October 6, 2009 via Vice Records.
Vocalist Sharin Foo spoke to Billboard about the record:

What strikes me is that more so than ever before the mood of the music and the subject of the lyrics are in extreme conflict with one another. Our past records have tended to sound like different perspectives of one controlling emotion, both sonically and thematically, almost like a drone. But this record is very much a collection of songs which each has their own individual emotion, energy and personality.
The record follows Lust Lust Lust from 2008.