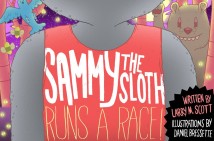 Think Fast! Records co-owner, Larry Scott, has collaborated with artist Daniel Bressette for a new children's book titled Sammy the Sloth Runs a Race! due out in August 2009.
From those who have already previewed the book it comes recommended for children ages 0-8 years old as well as for children with special needs. You can check out the webstore for the book which includes more info by clicking here
Artist Daniel Bressette has designed artwork for bands/labels including Blink 182, New Found Glory, This Is Hell, Outbreak, TF!, and many more.