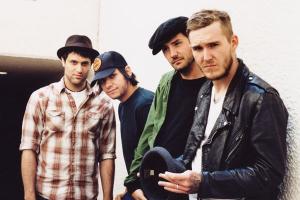 Gaslight Anthem's first two full-length albums and one EP have garnered praise and adulation from nearly all corners and critics. This summer they're busy headlining tours in the US, as well as playing a handful of festivals. Rob Inderrieden had the chance to sit down with drummer Benny Horrowitz at the Southside Festival in Southern Germany and talk about the whirlwind that has been their career, what he simply can't live without and what fans can expect from them in the future.
Rob Inderrieden: What were your thoughts about today's set and the festival atmosphere in general?
Benny Horrowitz: Festivals are always funny. We're just starting to get used to playing these things, you know what I mean. It's not really our scene. But it's cool. Sharing the stage with some great bands, Anti Flag, Nine Inch Nails, but it's always hit or miss. Today was a good one. We played well. Lot of kids watching us. A lot of kids seemed to know it. I was pretty excited about today.
Even with the rain and horrible weather - fantastic set.
We're definitely a band that feeds off of if the kids are into it, it makes us more into it and gives us more energy. So sometimes it's daunting. It's weird. A lot of times you're playing at noon in the middle of an open field… and it sounds like your playing at noon in the middle of an open field. A lot of times we find we're the most aggressive and punk band on the bill, for some reason they're letting us play these things. We're a little out of place and so it's all an adjustment. It's definitely not the same. I don't really love the separation with the kids. It's like two different worlds between the artist backstage area, where you see a lot of dog shit with other bands. It's when I really learned what dudes that consider themselves rock stars actually act like. I mean total fucking tool bags. But there's a cool element too. You get a sunny day and sometimes you get a cool vibe with the crowd and everyone's having a good time. So there's ups and downs. The food is usually real good. That might be the biggest upside for me. Three good and square and hot meals a day.
So it is hard to sometimes connect with the audience - when you have that separation?
It definitely is. But honestly it shouldn't matter. If there are six kids watching you and their eyes are on you and they're there to see you - those six kids should get the same shit that a thousand kids should get. That's like - one of my mantras for playing and touring is something I read in Rollin's Get in the Van. There was one show in particular - there were two or three kids in the audience and Rollins was fucking around with the show and he didn't really take it seriously. I'm not sure who in the band, but somebody straight up threw him into the wall and yelled in his face "I don't give a fuck how many people are here -- they get everything. I don't care if it's one!" And that's true man. We actually just had that experience - we played this festival in the south of France and we opened one of the stages and they started us right against this huge French band that we didn't know but the kids knew and we were playing to literally 30-40 people on this gigantic stage and there was one kid up front who knew our shit and was obviously there to see us and the whole time I am watching this kid and in my mind I'm like "I'm playing for this kid. Straight up." It's obvious that it's his first time to see us and he came to see us. Fuck it. He's going to get what 2,000 Germans are gonna get at this place. Sometimes it's hard to maintain - but it's something I always try to do.
I think that says a lot about you guys as artists and as a band.
Luckily for us - I don't see a separation between myself and the kids that come to see us. And I hope that lasts as long as I play music - because in essence - there isn't a difference. I play music and they do something else, I'm not fucking curing cancer or anything. I need them to do what I do. And if you lose focus of that - that's when people really lose themselves in this thing.
Right now - your job is playing music, what are some other odd jobs you used to have?
Oh man, I actually tried to count recently and from the time I was 14 to 22 or 23 - I had over 20 jobs. My whole mantra was - "it's a fucking minimum wage job and if it gets annoying and someone starts giving you shit, just quit and get another one. " It's that easy. I worked at a packaging store, I was a deli man, a short-order grill guy, pizza delivery, bagel baker, worked at video store, I worked with kids, 2 years in after school programs and 2 years in summer camp. I actually really dug that. And eventually started working at The Daily Targum (Rutgers/New Brunswick Newspaper) - in production. I eventually went on salary there and it became my full time job and I eventually quit that to do Gaslight full-time.
So what's it's like to know this is your full-time job now?
In a way - it's always what I wanted to do. And I tended to never take anything else to seriously - because this was always the goal. At first, I quit my job because of the touring and I just couldn't work a job where someone expected me to be there. But I'm still homeless. Me and Alex are still homeless, you know what I mean. As far as money and sustaining yourself, that shit is just starting to happen. Where I might be able to get a place within the next few months or something. It's been interesting. The last few months have been a trip. It's weird. But it's everything I want to do. The fact that it's actually happening is fucking crazy. It's the best thing ever. I feel really, really lucky.
What does the future hold for you guys?
We're doing this until late July. We get home in July - going to Chicago for Lollapalooza and last week of August doing Reading and Leeds again. So we'll have a couple weeks at home in August. In September we start a headlining tour in the states with Murder by Death, Loved Ones and a bunch of others (Frank Turner, Jesse Malin) we're doing that until October. And then we're home and we have the winter blocked out to stay at home and try and write. Just too stay together and we're gonna record the beginning of next year.
Thoughts and views on signing with a major?
The opportunity has been presenting itself since Sink or Swim. We've sat down with majors and had diner with them and talked with them. We haven't in the last year because we told our manager to tell them "Thanks but no thanks for now." We sort of found out early what it's all about and the state that major labels are in right now - it's kinda like jumping onto a sinking ship. We are doing the next record with Side One - we decided that a long time ago. Those guys have been awesome for us. We gotten to this point with them and this is a point we never thought we would get to, so there's no problem or anything to look forward to. We're more than happy with it. We're more than happy that we can actually honor a contract that we've signed. At this point we really don't have much of an interest at all. But that's not to say that it couldn't happen. We've never said that we would never do it. We always want certain things to dictate our career and that's not one of them. But if that's something we need at some point, maybe we'll do it, but it's just not necessary right now. I personally have a lot of thoughts about it. It would take a lot to get me to sign to a major label. If I sign to a major label I'd want to be set for the rest of my life. And that would be the reason I would need a major label.
Can you give us a time frame for next album?
Loosely I'd say late spring, early summer… but a lot of things can happen.
How would you describe the creative process used to create your sound and how everyone adds in their own unique tastes and talents?
I think the reason it was allowed to happen is there's always been an understanding that "they are your parts, as long as they sound good". Nobody tells anyone else what to play. Usually the idea and stem of the song will come from one of Brian's ideas - so his influence is strong from the get go. But we all respect each others space - and I think that's how you can get everyone's influences to come out. We typically don't go into a song saying, "I want it to be this kind of song or this kind of song". We basically base it off a riff or a melody and the stuff that happens is we play what we think sounds good. And what we think sounds good, obviously is going to stem from our influences.
Does it bother you at all that people continue to tell you, you remind them of The Boss and make Bruce Springsteen comparisons?
You gotta earn that shit. We've been a band for four years and if we keep going and writing songs, eventually people will see us for us and not have to compare us to anyone else. I can honestly tell you that I'm tired of the Bruce Springsteen question, because it's in every fucking interview. And people are now prefacing - it with "I know you must be getting this a lot… but…"
Sorry…
No worries. It's an easy comparison to make. Brian is a Bruce fan. There is obviously part of his music that comes into ours a little bit and you can't deny that. But there's about 100 other bands that are in it too that people don't bother to consider. I mean he's Jersey. He's a working class guy. Personally what I take from the Bruce comparison the most, is to me, he's like an everyday guy. He's a huge rock star, famous and rich. But from everything I know about the guy, he's totally human, totally gracious. I knew a guy that was a carpenter at his property and during Christmas he got a bottle of Patron and an invite to some Christmas party for him and his family. And I'm like, if you're gonna make money and aspire to be like someone, that's pretty fucking cool. So that's where my appreciation for Bruce comes in. I've never been a huge fan. I honestly didn't know that Bruce Springsteen had anything that he wrote that wasn't in the '80s until I meet Bryan. It's not how I grew up, it's not what I was raised on. My Mom was a classic rocker. We didn't really have any of that stuff. But if there is someone to be compared to - he's not a bad person at all to be compared to. It's the Killers ones that piss me off. I've seen that a couple times and that makes me mad. Those guys are a bunch of fucking corndicks.
The Killers? Really? I don't see that connection at all.
There's a couple songs on Sam's Town where I guess I can see something, just because they are song oriented. But just the way those guys present themselves and their whole vibe and all that shit, has got nothing to do with us. So when I hear that I'm like "Fuck! The Killers? I hate that band! Just stop."
So what's in your cd player right now?
BH: I've really grown fond of Jack White stuff recently. Not as much the White Stripes, I really like the Raconteurs records he did. I think those are awesome. I really like the newest Radiohead record, the one they released themselves. I'm still listening to the new Ninja Gun record, probably close to every other day. It kills me. I love that record. The newest Off With Their Heads record I like quite a bit. Minus the Bear put out that acoustic record which I dig. The new Isis is out - I dig the new Isis. And then the classics.
And what are your classics, your indispensables?
It's always Zeppelin. I always think about indispensable, as when party shuffle is on I won't pass it over. Ever. It' always Zeppelin. I love Nas. Especially older Nas. I'm a bit of an old New York hip-hop junkie. I dig a lot of that shit. You can even hear it in Gaslight sometimes. Sometimes a little hip hop will just show up, and that's just from my 16 to 19 - crooked fitted Yankees hat days. (laughs)
Desert Island scenario? The best of the best in movies, books and albums . What do you bring?
I'd need a little bit of everything to stay happy. Definitely need a Led Zeppelin record. Maybe I'd cheat and go with double BBC sessions record so I can get all my Zeppelin in one shot there. What would be the punk record? Man… so hard. I'd need one good punk and one good hardcore. Just off the top of my head - I'd say Descendents Somery and Botch We are the Romans. Movies - we need something funny so I'd take Anchorman. I can watch that show over and over and over again. Then I'd take True Romance - great movie. And then something deep, to make me think. What would be my thinking movie? Maybe a classic. I watch a lot of films, so this is tough for me, man… maybe come back to it. Books. The best book I've read for the last couple years is Middlesex by Jeffery Eugenides, that book fucking blows me away. I could read it over and over again. I would take something funny. Something that cracks me up. I'd take the old authoritative Calvin and Hobbes book, just for a good laugh. I love Calvin and Hobbes. And something to make me angry too. Something to get me going. it. Maybe People's History of the United States. That book will kill you too.
Where do you want to be in 10 years?
I Recently gained a whole new perspective on that. A few months back we were touring with Social Distortion. We parked at the club the night before and Motley Crue was there. We got on the guest list and we got to see them which was fun - but they travel in 4 buses, 6 trucks, some gigantic stage thing, Tommy Lee with a headset coming out and hyping the crowd with all his corn ball stuff. And we're just sitting there and like I got through 6, 7 songs, a couple of the classics and then I'm like "I'm done. This is fucking corny." And than the next day I see Social Distortion roll up in 2 buses - 1 for the crew and I think Mike has his family out with him. 1 truck with gear. Totally modest. I'm mean its nice stuff, but really modest and they out drew Motley Crue by like a 1000 people. To me that's the way to do your career. That's the way where you can have a life, provide for a family if you want to have one - which I do, that's something we're all thinking about, we're all getting older, Brian's been married for five years, I'm 28, Alex is 27. Getting a place and having a family is something we're all starting to think about. And if this is going to be our career - it would be cool to be awarded that kind of luck. To be able to sustain that kind of life through music. But we have no aspirations to be a fucking arena rock band or the biggest band in the world. I think we would hate it in that situation. We have a hard time dealing with some of the stuff that's already coming with this. So I can't imagine what it would be like with that. So 10 years from now - I want to be Social Distortion. (laughs).