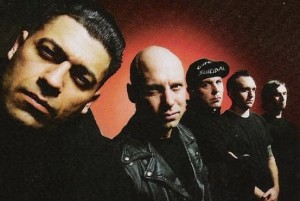 Death By Stereo recently left Epitaph Records to release their new album, Death Is My Only Friend, on Serjical Strike. Josh Fekete recently caught up with Death By Stereo vocalist Efrem Schulz to talk about the label change, the new album, and what the band has planned for the near future.
Death Is My Only Friend, your new record, just came out. What can your fans expect?
Expect something different. We try to change it up every time. As there is some of the most melodic music we have ever made on this record, there is some of the heaviest, fastest, and pissed we have ever created. There is even a song with no guitar at all, we just wanted to do something new and challenged ourselves.
Vocally, you take on a much larger range on this new record than prior releases. Was this intentional, or did it have to do with what a specific song called for?
I think I went for what the song called for, also, we never set any boundaries, so what that means to everyone is different. What I think the song calls for is sometimes so far away from what everyone else does. So it was different from song to song but, it was what I felt worked.
Your clean singing style has always had a sort of operatic quality that helps to set Death By Stereo apart from other heavy acts. Have any particular bands/albums influenced that?
Well, my big influences were singers like Angelo Moore, Jello Biafra, Mike Patton and I also like all the choir type backing vocals that Bad Religion used. I like to push it in every direction. I am very influenced by Hip Hop and R' n' B stuff as well. Not so much the metal stuff that everyone assumes although I do adore the genre. Sepultura had a great influence on my vocals and approach.
How did the band's relationship with Epitaph, your home for the last three albums come to an end? On the flip side of that, where did Serjical Strike come into play?
Well, we turned in our last record and though, everything is changing, we should change too. Try a new approach and see what's out there in the world. We are way cool with everyone at Epitaph, they are amazing but, it was just time for a new direction with us. Serjical Strike came about because a while back our friend George who runs the label introduced me and dan to Serj on different occasions, and I ended up singing a track with Buckethead that Serj Produced. Everything kind of just fell into place. George and Serj have been great to us and we are stoked!
How has the band approached song writing for past records, and has that process changed at all with Death Is My Only Friend?
Well, we took our sweet ass time. We always felt rushed in the past. This time we found what we wanted and reworked it over and over again until it was right. We also changed it up by writing with our good buddy Jason Freese who schooled us every day in the ways of music. It was so much fun and the biggest learning experience ever for us.
Death By Stereo have gone through a lot, from member and label changes, to things like the tragic Solar Haus incident; How has this affected Death By Stereo as a band?
Well, it's definitely made us stronger as a friend, that's for sure. Being in this band is very hard, we tour non stop and we aren't getting rich so it's a labor of love. It is hard for dudes to keep doing this as there are bills to pay and life sometimes takes its toll and dudes have to step down. The rest of us live very simple lives and work our asses off to do what we love. Things have hit us hard and tragedy has made it hard for everyone to press on but alas, its '09 and here we are!!!! STILL GOING! Can't be stopped! You can sue us, you can try to put us behind bars, you can try to beat us down, still posi! Still DEATH FOR LIFE!
As most fans know, there have been many different members over the years, with you being the only current original member. To what to you attribute the longevity of the band, despite that?
Well, we started in '98 and Dan joined in '99 so he is an O.G. too. It has always been friends jamming, that is the reason we are still here. It's all about homies. Me and Dan are fucking brothers. We just played a show the other night with Jarrod Alexander on drums so the O.G. dudes are still hangin' when they can, he is actually going to be touring with us now so it's always still the same in a lot of ways. We do this for fun, not for fame, I think that's why bands don't last, it's because they start bands to be famous, in '98 bands like us couldn't be popular so we just did it do express ourselves and say what we had to say. A lot of bands don't "make it" in a couple years so they break up cause that's their goal, our goal is to make music we love and see the world, so we are living that dream. It's awesome.
Since the record was initially announced, it was said that Death Is My Only Friend would feature appearances from numerous DBS alumni. Can you clear up who wrote for the record, who actually appears on the record, and what the lineup as of now is?
Well, sometimes life gets in the way of plans so this time around we didn't get everyone on board but we ended up being way happier that it went down this way. Dan and myself write everything. But we did collaborate with Jim Miner. He wrote "The Last Song," and Paul Miner recorded "Fear of a Brown Planet" and "Welcome to the Party". He also mastered the whole record. We ended up doing the whole thing with me Dan and Jason Freese at the helm and it was FUCKING EPIC! JASON FREESE IS A GENIUS!
With a new record under your belts, can we expect to see the band returning to its typical heavy touring schedule?
Hell yeah! We will be all over the U.S., Canada, Europe, and South America in the coming months so look out!!!!!
Thanks for chatting with us, We are so stoked to have the chance to let people know about what we are up to and just want to thank everyone out there who listens, goes to shows, and supports, and if you are reading this now and have never heard D.B.S., thanks for checking us out and see you on tour!!! DEATH FOR LIFE!!!!