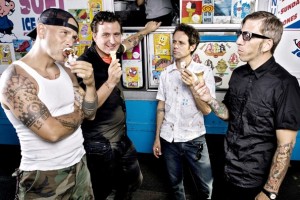 The Bouncing Souls are set to premiere their new 20th anniversary TV special at their upcoming shows in New York and Philadelphia. The band will perform on August 20th and 21st at New York's Webster Hall, the first show with Lifetime and None More Black, the second with 7Seconds and Tim Barry.
On the 22nd and 23rd the band will perform at Philadelphia's Trocadero Theatre, mixing up the support to feature 7Seconds and None More Black the first night and Lifetime with Tim Barry the second. The TV special will be screened in its entirety each night. In regards to the support, the band commented:

"Lifetime and 7 Seconds both took us on tour, in 1993 and 1994 respectively, when nobody else even knew who we were or cared. We wouldn't be a band without their help or their influence or their long-lasting friendships."