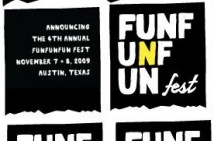 The organizers of Austin's Fun Fun Fun Fest have announce eight new additions to the 2009 edition of the festival. The bill will now include Fucked Up, comedian Brian Posehn, Harlem, Alaska in Winter, Yeasayer, Kid Sister, D.R.I. and Vega.
The already announced lineup includes celebrated Detroit protopunk act DEATH , Lucero, the The Jesus Lizard, Melt Banana, 7Seconds, the King Khan & BBQ Show and Les Savy Fav and others.
Another four additions are expected to be announced Monday.