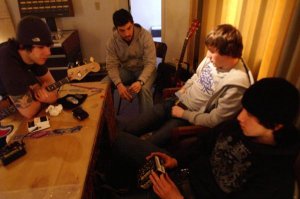 Have Heart have unveiled some information on their final show. The band will play on October 17 in Boston, MA alongside Bane, Shipwreck A.D., Step Forward, Waste Management, Foundation and No Tolerance.
While the show will take place on National Edge Day, frontman Pat Flynn stresses that "this is NOT an 'edge fest' of straight edge bands, but just a show on Edge Day of edge and non-edge bands." The actual venue has yet to be determined, however.
The show will also be acting as a benefit, with all proceeds going to the New Bedford Womens' Shelter.
Flynn also accidentally leaked information on a second-to-last show in the works, which would take place at Anchors Up in Haverhill, MA on October 16 with Trapped Under Ice, Cruel Hand, Soul Control, the Rival Mob, Outrage, Maintain and Free Spirit. The lineup has not been 100% confirmed, however.
Have Heart decided to call it quits earlier this year. According to a recent lengthy interview with Flynn, the band is planning one final 7" recording.