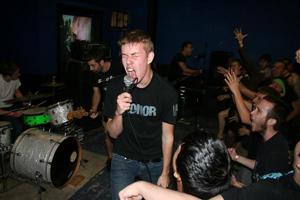 Having just wrapped up a three month-long North American tour, Orlando, FL-area group No Harm Done has decided to call it a day. Vocalist Matt Cantwell provided the following statement:

"These past few years have been nothing short of amazing, and I wouldn't change a single thing. Thank you to anyone who ever supported this band. First off, I want to apoligize to everyone else in No Harm Done. I have been losing touch with you, and at the same time I have become more bitter. I take full responsibility for everyone's discontent. I realize we will never agree on certain things, and that's ok. I'm glad this ended the way it did. We played our last show on August 19th, 2009 in Tallahassee, Florida."
The band's final full-length, 2008's Escape, is streaming at their Punknews.org page.