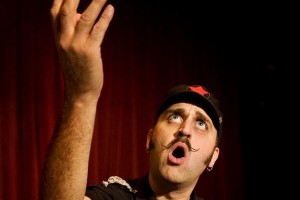 Team Science Records has relased a 10" EP from Franz Nicolay titled St. Sebastian of the Short Stage. The The Hold Steady and World/Inferno Friendship Society member has been supporting his acclaimed debut solo full lenth Major General that was released earlier this year.
The release is on clear vinyl and features art by VICE Magazine's Nicholas Gazin. A pull-out poster insert features a short stoy by Nicolay titled "Paraska Mikhailivna Is A Witch." The four songs on the 10" include a new collaboration with the The Dresden Dolls, a ballad to Watchmen comic character Hollis Mason, and a pair of songs dating from a set of 2001 demos.
Nicolay is on tour in europe this fall playing shows with Chuck Prophet and Mark Eitzel.
| DATE | VENUE | CITY | WITH |
| --- | --- | --- | --- |
| Sep 13 | End of the Road Festival | North Dorset, UK | w/ TBA |
| Sep 29 | Winchester, UK | The Railway | w/ Chuck Prophet |
| Sep 30 | Bristol, UK | Fiddlers | w/ Chuck Prophet |
| Oct 1 | London, UK | The Garage | w/ Chuck Prophet |
| Oct 2 | Bedford, UK | The Civic | w/ Chuck Prophet |
| Oct 4 | Exeter, UK | Phoenix | w/ Mark Eitzel |
| Oct 6 | Winchester, UK | Tower Arts | w/ Mark Eitzel |
| Oct 7 | London, UK | St. Giles Church | w/ Mark Eitzel |
| Oct 8 | Brighton, UK | The Basement | w/ Mark Eitzel |
| Oct 10 | Spain | Zaragoza Festiva | w/ TBA |
| Oct 14 | Spain | Madrid Festival | w/ TBA |
| Oct 24 | Belgium | Brugge Festival | w/ TBA |
| Oct 25-29 | Germany/Austria | TBA | w/ TBA |
| Oct 30 | Aarhus, Denmark | Music Cafeen | w/ Mark Eitzel |
| Oct 31 | Copenhagen, Denmark | TBA | w/ Mark Eitzel |
| Nov 1 | Utrecht, The Netherlands | TBA | w/ Mark Eitzel |
| Nov 3 | Bristol, UK | TBA | w/ Mark Eitzel |
| Nov 4 | Birmingham, UK | Glee Club | w/ Mark Eitzel |
| Nov 5 | Manchester, UK | St. Margaret's Church | w/ Mark Eitzel |
| Nov 7 | Edinburgh, UK | Cabaret Voltaire | w/ Mark Eitzel |
| Nov 8 | Newcastle, UK | Cluny 2 | w/ Mark Eitzel |
| Nov 9 | Leeds, UK | Brudnell Social Club | w/ Mark Eitzel |