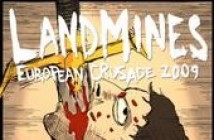 Richmond, VA melodic hardcore unit Landmines will be heading to Europe this Fall. The tour will carry the group through the UK, Czech Republic, Germany, Austria and Switzerland.
The band is also preparing to release their new EP, Hell Is What You Make It, around the same time as the European tour. A new track from the EP, titled "Evileye", has been posted on the band's MySpace page.
You can check out all of the date below by clicking Read More.
Sept 29 2009 8:00P
Brixton Windmill
London (UK)
Sept 30 2009 8:00P
Stigma
Swansea (UK)
Oct 1 2009 8:00P
Cavern
Exeter (UK) )
Oct 2 2009 8:00P
White Rabbit
Plymouth (UK) )
Oct 3 2009 8:00P
Willemeen
Arnhem (NL) )
Oct 4 2009 8:00P
AZ
Aachen (Ger) )
Oct 5 2009 8:00P
JUZ
Mannheim (Ger) )
Oct 6 2009 8:00P
TBA
Bremen (Ger) )
Oct 7 2009 8:00P
Nexus
Braunshweig (Ger) )
Oct 8 2009 8:00P
FZW
Dortmund (Ger) )
Oct 9 2009 8:00P
Treibsand w/ Steaknife
Lubeck )
Oct 10 2009 8:00P
Storte
Hamburg (Ger) )
Oct 11 2009 8:00P
Lokal
Berlin (Ger) )
Oct 12 2009 8:00P
Zoro
Leipzig (Ger) )
Oct 14 2009 8:00P
Yacht Club
Brno (CZ) )
Oct 15 2009 8:00P
Musichouse
Graz (Aus) )
Oct 16 2009 8:00P
Entrops Wiener
Neustadt (Aus) )
Oct 17 2009 8:00P
Cafe Marat
Munchen (Ger) )
Oct 18 2009 8:00P
AZ
Conni Dresden (Ger) )
Oct 19 2009 8:00P
KTS
Freiburg (Ger) )
Oct 21 2009 8:00P
TBA
Zurich (Swiss) )
Oct 23 2009 8:00P
Immerhin/TBA
Wurzburg (Ger) )
Oct 24 2009 8:00P
Exzess
Frankfurt (Ger) )