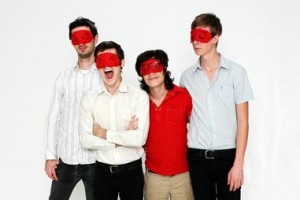 About a month ago Punknews announced Food Not Songs, a cook book being published by us and Suburban Home Records. In the months leading up to the book Punknews will be publishing weekly recipes, many of which will be available in the print edition.
This week's recipe comes from Fake Problems' Derek Perry. The band recently released It's Great to Be Alive. Rather than showing you a few old pictures of the recipe, the band has produced a short video documenting how to do it yourself. Why not pick up the record and have a great meal with it?
It's Great To Be Sheppard's Pie by Derek Perry
Getting Baked With Derek from Ben Conoley on Vimeo.
This is a personal take on a classic recipe. Where the normal is a casserole with beef, vegetables, and mashed potatoes, this recipe adds a couple of layers for a fuller, tastier meal.
Ingredients:
1 lb Ground Beef
1 Can Sweet Creamed Corn
1 Can French Cut Green Beans
7oz Bag of Shredded American Cheese
1 Spanish Onion
2.8oz Can of French's Fried Onions
1 1/2 lbs Bagged Potatoes
3 Tablespoons of Cream Cheese
1 Cup Milk
1 Tablespoon of Salt
1 Tablespoon of Pepper
4 Tablespoons Olive/Cooking Oil
1 Cup of Bread Crumbs
2 Tablespoons of Margarine
Method:
1. Chop & boil potatoes in lightly salted water for 15-25 minutes until soft (mashable).
2. While potatoes boil, chop onions and saute them inside a frying pan with 1 tablespoon of margarine until clear / semi cooked. Add ground beef and a half cup of ketchup and saute until brown. (Extra: While sauteing ground beef, add spices, Worcestershire sauce, A-1, or beef broth).
3. Drain the potatoes and mash, adding milk, butter, cream cheese, salt, and pepper. (Note: Add boxed mashed potato flakes until you have desired mashed potatoes. Also, allow the mashed potatoes to be slightly creamier than normal).
4.A. Lace the bottom of a baking dish with the ground beef/onions.
4.B. Drain can of green beans. Spread green beans in a layer on top of ground beef in baking dish.
4.C. Spread a layer of French's Onions, bread crumbs, and shredded cheese over the green beans.
4.D. Spread Creamed Corn over the top of cheese.
4.E. Spread Mashed Potatoes over the cream corn.
4.F. Sprinkle remaining amount of French's Onions and Shredded Cheese over the top.
Layers (Top to bottom):
-French's Onions / Cheese
-Mashed Potatoes
-Sweet Creamed Corn
-French's Onions, Shredded Cheese
-French Style Green Beans
-Ground beef/onion Base
5. Cover baking dish with aluminum foil and cook at 350-400 degrees for about half and hour. You should start to see bubbles (since the fluids are boiling, it's hot enough.)
6. Remove the aluminum foil and then broil the dish for 5-10 minutes, until the top is a golden brown.
7. Let sit for 5 minutes until serving temperature. Feeds 4-6.