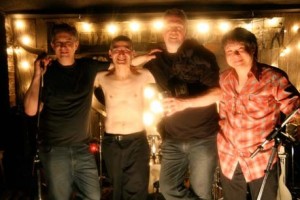 The Scenics, an early Toronto-based punk / new wave act that ran from 1976 to 1982, are returning with a new (lost) record and a short tour. The band's upcoming album is titled Sunshine World and features previously unreleased material, recorded to a four-track recorder between 1977 and 1978. It features 13 original songs along with covers of the Kinks and Tommy James and the Shondells. The record will be released on October 13th via Scratch/Sonic Unyon. A small handful of tour dates in Ontario and Quebec will support the release.
In their time the Scenics released one full length, 1979's Underneath The Door, and more recently put out a collection of Velvet Underground covers titled How Does It Feel to Be Loved. An album of new material is expected next year as well. Bob Mersereau, author of The Top 100 Canadian Albums commented on the band:

It wasn't so much that The Scenics were ahead of their time in 1977, it's more that almost everybody else didn't even know what time it was. The Scenics were on top of it though, grabbing the freedom promised by punk's first blush, and incorporating their own smarts…New York has Talking Heads, and England was blessed with XTC, but here was their equal in Toronto and they never got the neccessary push and support. It's fabulous we finally have the evidence, but it's a drag we haven't been able to enjoy it for the past 30 years.
| DATE | CITY | VENUE |
| --- | --- | --- |
| 10/13 | Toronto, ON | El Mocambo |
| 10/14 | Ottawa, ON | Zaphod Beeblebrox |
| 10/15 | Montreal, QC | Green Room |
| 10/18 | Hamilton, ON | This Ain't Hollywood |