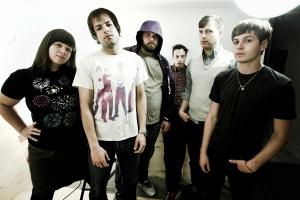 Celebrated Toronto hardcore act Fucked Up were awarded the $20,000 Polaris Music Prize last night for their 2008 full length The Chemistry of Common Life. The band beat out 9 other short-listed competitors at a gala event in Toronto, including Metric, Elliott Brood, Great Lake Swimmers, Malajube, Patrick Watson, K'naan, Joel Plaskett, Chad VanGaalen and Hey Rosetta!. The Globe and Mail's Carl Wilson had this to say about the band:

So people say Canadian songwriting is ironic and distanced? Fucked Up has as direct a line to pissed-offness as any Brit or U.S. punk. Yet they rewrite the laws of fast-hard-loud with eight-minute songs, melodious backup vocals, even flutes. The Chemistry of Common Life confirms Canadians can wear their brains on their sleeves even without a shirt - the sound of a year when everything depended on getting mad without getting stupid.
To qualify for Polaris, the Canadian acts had to have released an album between June 1st, 2008 and May 31st, 2009. Eligible records were nominated and voted for by a 190 member jury of music journalists from across the country, including Punknews' own Ben Conoley.