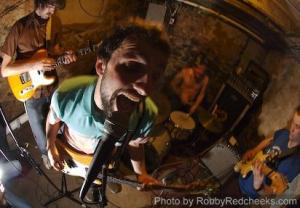 Their history is relatively short, their discography even shorter, and their touring? Nearly non-existent (or so it seems). However, for the trials and setbacks, the problems surrounding their inability to devote more time to their aesthetic product, Philadelphia's Algernon Cadwallader are quickly captivating the attention of seemingly all the right people. Matthew Bentel had the opportunity to talk with Algernon's Peter Helmis, and ask him a few questions. They touch on Fest, the problems they've had touring, and yes, the whole Cap'n Jazz thing.
Because I think its on everyone's mind, I'm going to ask it: are you aware exactly how much you remind, well, most everyone, of Cap'n Jazz? I've read the allusions to being "Kinsella-esque" and some to even suggest American Football, which isn't a stretch but not the first thing to come to mind. Algernon Cadwallader definitely has that post-emo indie sway to them, as if Mike Kinsella actually had a bit more input on the writing process for Cap'n Jazz. How does that make you feel?
We are fully aware. People tend to mention it quite often actually. Redundancy aside, we don't mind a bit. I recall the first time a stranger once said our old band reminds them of Cap'n Jazz my teeth just about busted out of my face. They are just a huge influence on us along with all of the affiliated outfits -- and the Beatles. In high school, someone handed me a tape with Cap'n Jazz on one side and Braid on the other and it had a great impact on me. The way things like that come about too. That crappy neo-80's colored mixtape is probably the best physical piece of music I've ever held.
Correct me if I'm wrong, but the group hasn't toured too extensively, playing mostly regional shows. The band did have the setback of a broken leg last year that cancelled the ongoing tour, but nothing has surfaced as a replacement. How come? Is it difficult for a band like yourself to devote more time to the cause?
That's correct Matthew. We'd done a couple of great two week tours to the south and Midwest but almost as soon as we set off on a two month tour of the country Tank fell victim to a vicious wipe out. We sort of shrugged it off and played the fest with our pal Mike from the band 1994! and drove home. It turned out to be a much more serious injury than anyone thought. Tank had to endure a surgery leaving screws and a metal plate burrowed beneath his skin and practice months and months of physical therapy. By the time he was back behind his drum kit we all agreed to take it slow and work our way into things. We try to get as far as we can in a single weekend, up to New England and New York or down to DC. We also all got pretty broke and Tank started taking classes online. Finally we've settled on doing a month long tour of Europe with our buddies Teenage Cool Kids from Texas. We'll be doing that in October and flying straight into the Fest. We're not sure what's next after that but we love to make it to the west coast and hit all the places we missed last winter.
What is your favorite aspect to Fest?
I am blown away by the organization of so many fucking punks. How Tony and the No Idea guys do it, I don't know but they should win some kind of leather studded award. My favorite aspect of the Fest is seeing so many faces in one place that usually take years of touring to keep tabs on. I don't think I stopped smiling once for 72 hours. Even in my sleep. It was creepy. It's an honor to be invited to such a piece of repeating history. I think people will look back on this decades from now and just collapse. It's like Woodstock running 8 years strong.
There is always that running rumor that this year will be the last Fest. I'm asking you to speculate for a moment. What happens if that ever becomes true? Who puts the pieces back together, or do they even get picked up?
People are already spending so much of their time, like seriously so much, organizing this thing that you can't ask them to keep doing it forever. That would only make it contrived and stale. I believe there is life post-fest. Other gatherings in the same spirit like Best Friends Day. Other celebrations. Punks just wanna have fun.
When I went to Fest last year, I unfortunately had to miss your set because, well…the Ergs! were playing their second set of the night, and could you blame me? Either way, as I was walking to the Kickstand, a gentleman from Minneapolis was walking in the opposite direction carrying three or four of your records. We talked for a few minutes, and he told me he was bringing those records back home to his record shop because, in so many words, it was criminal Algernon Cadwallader was not on his sales floor. What do you make of that kind of impact? What do you credit to your success so far?
Cool! Only in this community would anyone even care if anyone else has your record or not. We are just nice to people and people are nice back. We've met a lot of people touring in our other bands over the years and by helping folks out with shows and places to stay when they come through Philadelphia. It's the same community that was built in the 80's just on extreme growth hormones. The scene is more than flourishing, it's over-flowing, and I think some people take it for granted but we don't.
You guys decided to re-release your 2006 demo. I guess the parsimonious question is why? Was there such a demand or are you guys not yet jaded with your future?
Initially we were just burning these on CD-R, spray painting the CDs, and screen printing the covers. After some hundred of these it got pretty tiresome. People still wanted it so our friend EJ ended up pressing it on vinyl. He pressed 300 and did an awful job. It was so expensive and people pre-ordered and were waiting for their records for months. Those ran out quick and we wanted to make a version we were happy with and not rip people off so Craig Woods said he would release it on Be Happy. I've probably printed about 2,000 of these covers.
How is the Philadelphia scene? Any acts we've been unfortunately overlooking?
Philadelphia is a gem. Small enough to avoid the hipster radar and keep thriving and broad enough to generate and sustain eclectic talent. It seems like kids in this city are so eager to open up their homes and basements for shows that I can't see it ever dying. Off the top of my head it would be my responsibility to mention bands like Reading Rainbow, Northern Liberties, the Extraordinaries, My Mind, Eat Forever, Uke Box, Lighten Up!, What Happened, 1994!, Snowing, Boys & Sex, Band Name, Towers, Pirouette, Everyone Everywhere, Women, Canine 10, Farcial Hoodwink, Grandchildren, Drums Like Machine Guns, Magnet City Kids, Airports, Dangerous Ponies, Conversations with Enemies, so many… even Joe Jack Taclum has been playing basement shows here for years and now the Dead Milkmen are back together!
Alright, tell me something funny.
I'm locked up in a hospital all week doing a medical study. I'm answering these questions in scrubs with a needle stuck in my arm!