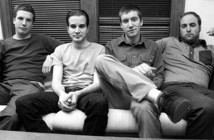 Small Brown Bike have been confirmed for The Fest 8. Small Brown Bike were originally part of the No Idea Records family, releasing several albums through the label before leaving to release their final swan song for Lookout! Records and ultimately breaking up in 2004.
The band played a few reunion shows in September 2007 to benefit a friend of the band who had been battling Leukemia, including a "final" reunion show at The Fest 6. Along with the announcement of Small Brown Bike, THE FEST 8 has announced another large chuck of confirmed bands, resulting in a final tally of over 300 bands.
New additions include Chotto Ghetto, Hanalei, Josh Small, Madison Bloodbath, Thunderlip, Where The Land Meets The Sea, Apologies, Brook Pridemore, Devout, Dirty Fist, Empty Orchestra, I Have None, Jared Grabb, Jawsome, John Walsh, Lost Hands Found Fingers, Prize Country, Stoned at Heart, Stymie, Surfer Blood, Teenage Cool Kids, Telephone Sons, The Ex-Boogeymen, The Pizza Brothers, The Terror in Tiny Town, Vacation Bible School, Vaccine, Weapons to Go, White Elephant Gift Exchange, Will Quinlan & The Diviners, Worthwhile Way, Wurmchurch, and Trailer of Tears.