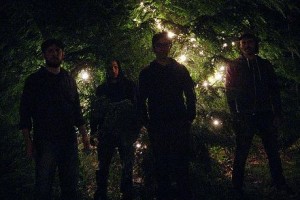 When Cave In declared their hiatus three and a half years ago, no one knew what to expect for the quartet's future. Everyone knows that a hiatus is more often than not a prelude to the breakup. Not so, however, for Cave In, who has just released the dynamic, raging Planets of Old on Hydra Head. Listening to it, it's hard to believe that the band was apart for so long. The songs are as tight as ever, and the lyrics spin dark, haunting tales against the heavy, ethereal sound scape of the EP.
Steve Brodsky talked with Talia Miller about the new album, his recent interest in writing, and what it's like to play together again after being apart.
A little bird told me that you've been working on your writing lately, and taking poetry classes to learn more. What brought on this interest in improving your writing, and what has the process been like for you? In terms of your new album, how have your lyrics changed from your earlier work?
Yes, I took a poetry class for a semester. The best parts about it were Margaret Atwood and Sylvia Plath. The reason for me even going in the first place ties into a quest of forever wishing to improve upon things that come out of my mouth. As I get older, I can only hope the same for my lyrical offerings in Cave In and beyond. What I find most interesting on Planets Of Old are the collective lyrical constructions on "Caymen Tongue" and "The Red Trail". Recounting stories from past glories of both Caleb & Adam, respectively, the former flashes back to bloody splashes of a gruesome hunting trip deep in the New Hampshire woods; the latter touches upon the horrification of old Boy Scout tales.
I know Planets Of Oldcomes after a three and a half year hiatus. What were the reasons for the hiatus, and what eventually made you want to reform the band?
Mainly a difference of living situations. The band always functioned at its best with all members residing in close proximity. For a number of years, this simply wasn't the case. Then came relocations, and a few phone calls. Before we knew it, we found ourselves at the rehearsal space together again.
All of the members of the band have other "side projects" that they play in as well as Cave In. What kind of dynamics does this contribute to the band? How do you think it has helped you to develop as a band throughout the years, and how have the other projects you have worked on helped you to grow as a musician?
The four of us have built a better sense of who we are outside of Cave In. Participating in other musical endeavors and also building lives outside of playing music have done this. As a result, the band worries far less about "the little things," so to speak. Writing music for "Planets Of Old" shows that each member's inner "conductor" has grown with a confidence that isn't afraid to say "this part sucks" or "your way of singing that part kind of blows" - usually more eloquently-stated and followed by something constructive.
I've read that you currently have no plans to tour as a band. What was it like to play in Boston last month in front of an audience? Did it change how you feel at all about touring as a band, or is touring something that is just not a possibility at this time?
7/19 was overwhelming in many good ways. It was nice to hear the sounds of our equipment stretching beyond the confines of our rehearsal space again. And the folks who came to the show seemed genuinely happy to be there. Really, we couldn't have asked for a better night. As for touring, it's just not in the cards right now. Two of us are fathers which means that planning outings of any length require greater degrees of consideration than they used to. But with Cave In approaching its 15th year in existence as a band, there's noneed for things like "expanding our audience" or "getting our name out there" with senseless touring. Been there, done that.
What was the writing process for Planets Of Old like? Did you find that you had the same sort of chemistry together immediately, or have things changed over the years? How was writing together different and how was it similar than in the past?
Sonically, the chemistry hasn't changed much. I suppose this is the case when a band uses pretty much the same gear and plays at a consistent volume for a number of years. Seems that we do what we've always done… writing music that reflects our current listening tastes, and playing in such a way that satisfies what we can't necessarily gather from our own record collections on any single disc.
Compared to 2005, when your last studio album was released, how has, for lack of a better term, "post-hardcore" music changed? Do you feel like there are bands are putting out better, more exciting music now than there were in the earlier part of the decade? Who are some bands that you think are really interesting and worth listening to right now?
Plenty of contemporaries from Cave In's early days continue to thrive, making quality records, touring occasionally… they're still out there, functioning in some productive shape or form. Too many to even mention, it comes with little surprise to think about this for a moment. Chalk it up partially to the continued advancements in technology making it easier for bands to make records and to release them. Adding greatly to their longevity, it's sort of like the age of modern medicines and their effect on the life span of human beings.
I know that Hydra Head put out Planets Of Old, but I read that Vacation Records put out color vinyl versions of the EP. Are the two labels connected? Why did you decide to put out the color vinyl only on Vacation?
Vacation is a store run by the Hydra Head folks. They were kind enough to give us colored vinyl to sell at our record release show. Ultimately, Hydra Head makes their own decisions about creating colored vinyl based on their experience releasing records for quite some time. In short, we don't ask too many questions about those etails - Hydra Head came through with delivering copies in time for 7/19 and that was good enough for us.
Where is Cave In headed? Do you have any future recording plans? If you have no future recording or touring plans, would you consider yourselves to be back on hiatus? If this is the case, what other musical ventures do we have to look forward to from the members of Cave In?
Recording of new material in the not-too-distant future… more shows in the fall that we'll be announcing soon… something visual for the folks who missed our last show… and a package of sorts combining uncollected musical pieces together on one disc.