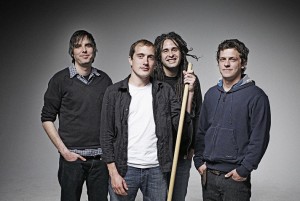 Brampton, Ontario based rock act Moneen have been one of Canada's finest musical exports in recent years. The prolific five-piece have been crafting their dynamic and melodic brand of nu-emo over a succession of critically acclaimed albums. Their new full length, The World I Want To Leave Behind is no exception, as the band reaches deep down to their explosive core to deliver one of the year's finest rock records. Punknews contributor Matt Pagirsky recently had a chance to speak to lead vocalist/guitarist Kenny Bridges about the new album, their newly birthed partnership with Canadian indie Dine Alone Records, their upcoming national tour with Org-favorite Say Anything this October and much more.
Your new album, The World I Want To Leave Behind was produced by Dave Bottrill, who's previous work includes bands such as Tool, Quicksilver, and Muse. Did his presence behind the boards influence some of the heavier songs ("The Long Count", "Hold That Sound", and "The Glasshouse") on this album? What made you decide to choose Bottrill?
As we were half way into writing this record we started thinking of producers. We tend to lean towards using someone different for each record. We started putting lists together of people we might want to work with. We had a list of realistic names. Then we had a list of dream names. Bottrill was on the dream list. Later on we had a meeting to figure out whom we should actually contact. I didn't even bother bringing up his name. But one of our friends at Dine Alone Records threw his name out there. I found this to be a very weird bit of fate. Turns out he knew one of Bottrill's assistants. Bottrill was opening up a studio in Toronto and he was pretty sure he could get our demos over to him. Still thinking it was too good to be true, next thing I knew we were meeting with him and feeling very good about it. We got along great. He has worked on so many great records. I was listening to the last two Silverchair records that he worked on constantly. Just thinking of all the projects he had worked on made us a little nervous. But he was so easy to work with. Bit of a genius. Him and co-producer Brian Moncarz really made us a better band. They came and did pre-production with us and we shaped some of the weirder songs into some of the strongest on the record. "The long Count" was a stand out song for being very intense for a Moneen song. Bottrill embraced that and liked the fact that we were out of our comfort zone. He would always sit beside Steve our drummer. He had a little stool and would sit there listening, making notes, just taking it all in. At one point he turned to Steve and told him that he would sit right there beside Danny Carey during tool sessions. Steve wanted to hide in his bass drum.
There seems to be an overall lyrical theme of maturity and "growing up" on the new album. Were there any personal realizations or changes as a band that contributed to this? Does the album's title tie into this theme at all?
This album definitely has a feeling of being older and seeing the world a little different. The last record was looking at the world from the outside in. this record is more of an inside in look at everything. How we fit into the world. What difference we make by existing at all. What mark we may leave. What chaos our simple actions can cause. The title says it all. When we leave, how do we want to be remembered?
The track listing for TWIWTLB is noticeably different from your previous releases as the song titles are much shorter. Was this a conscious decision?
We were over having extremely long song titles. It was funny at one point, but it got to the point where people would shout out song names to play and we would have no idea what they are talking about. This record is more about the songs, we left the irony and sarcasm behind.
Your last album, The Red Tree was critically acclaimed and seemed to push the band's sound and notoriety to a new level. Was there any sense of motivation or pressure that pushed you guys to create an album that could top the success of TRT?
We just make records. We are lucky enough to be at a point where people know our band, but there is no real pressure to do anything. We never had hit singles. We made music for ourselves and others that were nice enough to enjoy it. We have been in a good place where we have the freedom of having fans who appreciate us trying new things. We were never a straight up rock band. There were always moments of experimenting within a Moneen song. This allows us to do really what ever we want. To me this record is a step forward in what we were going towards with the last record.
You recently released the Hold That Sound EP, which consisted of three new songs that also appear re-recorded on the new album. Is there any sort of connection between the EP and TWIWTLB? Did these songs in particular hold any special meaning?
When we were mixing the record we realized we had so many songs we did not want to see fade away into obscurity. I have always been a fan of EP's. Especially just being a limited run of vinyl. Doing things like that had always excited us. At one point we were not even planning on having "Hold That Sound" on the record. It has since become the first single and we just shot a video for the song. Funny how that goes. It was our oldest "new" song, so to us it was not that exciting anymore. As we finished it in the studio and started to play it live as shows, we realized it had grown into something new to us. We wanted to show with this EP that we had many sides to our band now. We have come to really enjoy playing acoustic. Before shows we would sometimes just grab our acoustics and play some songs for people sitting in the line. So had these stripped down versions of "The Way" and "Waterfalls" made sense to put out a record with one side really intense, and one side really quiet. We are proud of the fact that at any one time we can go from rolling on the ground destroying our bodies to play really quiet beautiful songs.
Were there any specific albums or bands in particular you were listening to while recording the new album?
I really got into that movie Once. The songs from that movie really hit me. There is that first song Glen Handsard play in the alley when the camera is moving in on him. I remember Erik and I were watching it and when the song ended we stared at each over and had to rewind it and watch it again. Made me feel music like I did years ago. There is something about capturing honesty in music. It is not easy. I think Glen Hansard is a really good songwriter. I really enjoy Damien Rice as well. You may laugh at this, but I started listening to a lot of old Soundgarden alot. I really got into riffs again. That and Meshuggah were big ones for me when I wanted some good old riffs. So yeah, I was all over the place.
WIWTLB is being released in Canada through growing independent label Dine Alone Records. Are you excited to have an affiliation with a Canadian based label again? How'd you get hooked up with them and do you plan on releasing any other future material through the label?
Yeah it is really nice to be working with Dine Alone Records. We have been very close friends and family with them for years. It made sense to be with them. It is important to us to be very close with the people we work with. I feel so good about the family we have now. Vagrant Records are champions. We are very lucky to have them working so hard for us. Dine a lone is really good about releasing interesting projects. I am sure you will see some cool limited releases from Dine Alone very soon.
You guys will be kicking off a U.S. tour in October with Say Anything and Eisley. Are there any particular stops you're looking forward to? Any plans to tour Canada anytime soon?
We cannot wait to hit the road again. It has been so long since we have done a full states tour. I love touring. We kind of got used to being home and recording. So it will be really fun to stretch our legs again. We are doing a headline Canada tour right after the Say Anything tour. We will be out from October 2nd until the middle of December. Cannot wait for the tour to start. Our bodies wont be ready. I want my body to break during the first show.
You recently wrapped up a few shows with Brand New and Kevin Devine in Europe. How did that go? Are there any other bands you'd love to tour with that you haven't gotten a chance to yet?
The Brand New dates were so good. I love that band. The first time we went over to the UK was with them, so it was nice to be back over there with Brand New again. We have a lot of respect for those guys. I think them and Thrice are some of the best live bands from this scene. We have been pretty lucky with the bands we have toured with. I would love to play some shows with Mutemath. It would be a challenge to not look stupid playing with that band. They are so good at what they do. Very inspiring to see bands that are so good at playing live. That is why it fun to play festivals. You get to play with so many different bands.
Would you guys ever consider releasing another split cover EP ala The Switcheroo Series?
There has been some talk recently to that, but I feel you cant ever repeat yourself. What is the point to do something you have already done. I was throwing out the idea of joining with our friends in Alexisonfire and write a few songs altogether. A big super band. There would be so much delayed guitar within that project.