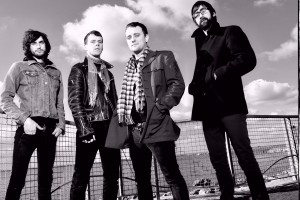 Punknews' Darren McLeod caught up with Dave Hause of the Loved Ones before the Vancouver stop of their tour with Murder By Death, Frank Turner, and The Gaslight Anthem. They chatted about Dave's upcoming solo album, It's Always Sunny in Philadelphia, the new Pearl Jam album and the difference between Dave Hause and Dave House. Darren also tried to talk about hockey, but that failed miserably.
Darren: Alright, I'm here with Dave Hause (as in pause) of The Loved Ones. How's the tour going so far?
Dave: Tour's been great. We're having a lot of fun and it's great being back on the road playing shows for people who are excited about music.
Excellent. Now, tomorrow night you're playing a free solo acoustic show with Billy The Kid, correct?
That's correct.
How's your solo album coming along?
It's about half done. As soon as this tour is over I'm going to settle in and go to Asbury Park to finish off the vocals. There's some piano stuff that needs to get finished that my sister's going to play. A little bit more guitar work that Chris here is going to do.
(Dave gestures to bassist Chris Gonzalez)
There's a little bit left. Not too much, and then we'll mix it. I hope to have it finished by Thanksgiving and then I'll have to start to figure out what to do with it! (laughs) Are you going to put that out under your name or do you have a different name for the act?
No, it's just my name.
Are you concerned that people are going to confuse you with Dave House from The Steal, who also puts out solo albums?
I'm not that concerned about it. I mean…
It's just an 'o' and an 'a'…
Yeah, but, most people who are aware of what I'm doing musically can read. (laughs) I think they can figure it out. He actually contacted me when I put up my MySpace page and asked if I wanted to do a split 7 inch. So we might do that in an effort to deal with the elephant in the room. I'm not sure if it's going to happen. We'll see.
Perfect. How about The Loved Ones? Have you been writing material for the new Loved Ones album?
Yeah. I'd say we're about a third into writing the new album. We're not putting a time table on it - I wanted to get this record done of mine, so that pushed back The Loved Ones record. Chris also has a record of songs, and he's going to record that once I'm done my record. So I think that we'll be recording The Loved Ones in the spring, maybe? At this point, I think the songs we have are really good, like, the strongest stuff we've done. I know that's a common thing for an artist to say because they're excited about what they have coming up. It's sort of a meld of the first two records. Everyone's been really excited about the songs. In the band, I mean. We haven't been playing them live, or for anyone else. We're going to come out of the gate with a full album, no-holds barred, and tour the world again. Until then, we've got other projects keeping us busy.
Excellent. Now, I heard about a third project with you and members of The Bouncing Souls and The Hold Steady. Is that still on the plate, or on the back burner for now?
I don't know. It's a cool idea, and we got together and wrote some songs, and it was fun. But realistically speaking, the three different bands that we're all in are extremely busy - not to mention that Tad from the Hold Steady does photography for Rolling Stone now. We could probably all write a record via email, back and forth at some point, but I have no idea. We'll get to it at some point, maybe.
A couple of Philly questions for you. Number one: what are you more concerned about: Ray Emery's goaltending or Daniel Briere's groin?
(blank stare)
Or do you not follow hockey?
I haven't followed hockey for a long time. I followed it as a kid. I was into sports pretty heavily in middle school and sort of fell out of it. I pay attention to what's going on with the Eagles because, you know, football is such a big deal for everyone in the states, and specifically on the east coast. And I definitely have gotten back into baseball in the last couple of years with the Phillies winning the World Series. Prior to that, I had decided to start watching more baseball. But hockey I haven't paid a whole lot of attention to because it's pretty hard to keep up with in the States, due to the fact that it's not really on TV anymore. It's kind of a drag.
This isn't going to play well with our Canadian readers.
I would like to pay more attention to it, but A) there's only so much time in the day, and B) I'd really have to search it out.
That's understandable. My other question, and maybe you don't have time for this either, but who is your favourite character on It's Always Sunny In Philadelphia? Charlie, Mac, Dennis…
I would say neither of those three. I like Danny De Vito's character.
De Vito, eh? He's got some good moments.
I think he really put a spark on that show when he came on. I watched the first season and thought "Yeah, this is pretty good." But when he joined up it just got crazy. I thought they were able to do a lot more. That show's fun, but I kind of overloaded on it. It was all on Hulu - you know that site Hulu?
We can't actually watch it here in Canada due to licensing, or something.
The thing about Hulu is that you can just watch it all. My wife and I sat down and watched three seasons worth. That sense of humour, all in a row, that many nights - it starts to wear on you. It's kind of like "Alright. I need something actually… positive." So I kind of overdosed on it and I'll have to go back and check out where it's at but I needed some time away from that show. (laughs) Any tours planned for after this one?
We're not planning on doing any touring until we have a new record, which is actually a decision that I kind of made. I don't know if everyone in the band is okay with that (laughs), but that's just the way it's going to be. It's important for me to come to town with new music.
Speaking of new music, any new albums you've been listening to lately?
I'll be honest, man. I had one of those moments today where, you're going along with your day… I bought two records yesterday. One of them is the Monsters of Folk record - you know, with Conor Oberst and Jim James and all those guys - and I bought the new Pearl Jam. I said, "Well, I know I'm really going to like the Monsters of Folk, so I'll wait. Who knows what Pearl Jam has been up to?" So I put that one on first, and I had one of those experiences with a record that you rarely have where you're completely dumbfounded by what's coming over the speakers. It's so fucking good. I can't even formulate half a sentence about it. I mean, it's so, so good. I came into the venue with it in my hands. When we got here, I just was like, "has anyone heard this?" A couple of the guys from Gaslight had heard it, and they too were very excited about it. It's a total rock and roll album. It's loud, fast, uptempo and it's really, really good. There's that and uh, other than that… I love those Conor Oberst records, and the new Jay Z I think is really good. I think that's a really creative record. We listened to that a lot during the first week of being on this tour. So, yeah. I'd say the new Pearl Jam, new Jay Z, and hopefully that Monsters of Folk album but I didn't even listen to it! I just played the Pearl Jam record like 3 or 4 times in a row because I couldn't believe how good it was(Laughs). Hopefully my cheque clears from Pearl Jam after being such a hype man (Laughs). Goddamn, did they do a good job.
Any last words for the readers?
No. Just thanks for the interview, and see you… when we see you.