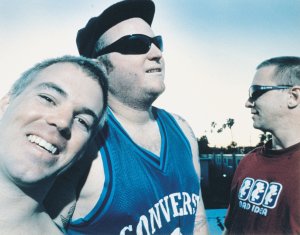 A Los Angeles judge has blocked the use of the Sublime name by bandmembers Eric Wilson and Bud Gaugh. The estate of original vocalist Bradley Nowell filed a trademaerk infringement suit on October 21, in advance of the band's performance at the Cypress Hill Smokeout Festival.
Nowell, who died of a drug overdose in 1996, had registered the 'Sublime' trademark under his own name prior to his death, according to the Nowell family. Wilson and Gaugh continued to perform after Nowell's death under the name Long Beach Dub All Stars, but had recently revived the Sublime moniker after newcomer Rome Ramirez joined the group as lead vocalist.
It's unclear what sort of bearing this ruling will have on the band's future (though a name change at the very least may be in order), but Gaugh hinted at recording and touring in a recent interview, as well as opening free recovery centers for underprivileged teens in Nowell's honor.
Several videos of the band performing at Smokeout Festival can be seen here.