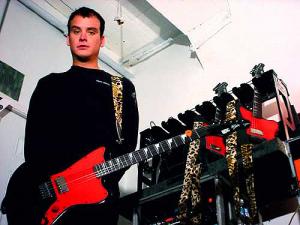 Asian Man Records has announced more details on the upcoming solo album from Alkaline Trio guitarist/vocalist Matt Skiba. The album will be called Demos and is slated for a February 16, 2010 release. The label is promising to post new songs once the record is mastered and also remarked:

"The new Matt Skiba album "Demos" is getting mastered this week. 15 brand new songs. All songs were recorded over the past 10 months by Mr. Skiba in various avenues. Whether in his bedroom or while traveling, Matt recorded these songs originally as demos, but the songs are perfect as is. We couldn't ask for more. Anybody who loves the Alkaline Trio without the glossed over production will be incredibly happy with this final product. We plan on releasing various colors of vinyl and will be taking pre-orders sometime in DECEMBER"
Skiba last released a split CD with Kevin Seconds in 2002. Meanwhile, his Trio bandmate Dan Andriano has been playing solo shows under the name The Emergency Room, and Alkaline Trio are slated to self-release their next full-length sometime in the future.