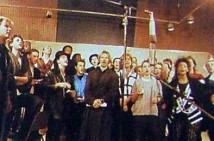 Toronto hardcore provocateurs, Fucked Up, told New York Magazine that they plan to use some of their $20,000 Polaris Prize winnings to record an all-star cover of the 1984 charity single, "Do They Know It's Christmas?" Originally written by Bob Geldof and Midge Ure and performed by musicians of the time including U2, Duran Duran, Spandau Ballet, George Michael and many others.
So far, Fucked Up has confirmed participation from comedian David Cross (Arrested Development), members of Vampire Weekend, TV on the Radio, Broken Social Scene, GZA, Bob Mould, No Age and Yo La Tengo. He is hoping to confirm Feist, Jarvis Cocker, and M.I.A. and, well, "If we could get a Jonas Brother on this, I would get a Jonas Brother."
This version of the song will also be a benefit, for Justice for the Missing. Frontman Damian Abraham commented on the song:

There's a kind of cavalier colonialism to the original, like the West has to go in and help this poor Third World country. But the charities that we're trying to help are exactly a product of this colonial history. People who have been subjugated and oppressed for so many years are going missing. So there's an irony to using the song. The lyrics are tasteless enough as it is.
Check out the original song here.