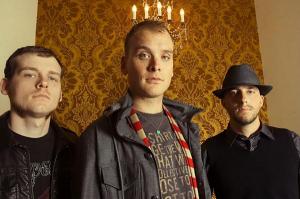 Alkaline Trio have announced that their upcoming seventh album will be released as a joint venture between Epitaph Records and their own newly formed label Heart & Skull.
In an interview with Spinner, guitarist/vocalist Matt Skiba had this to say about the album's sonic direction:

This record is a rock record but our punk rock upbringing definitely shines through, more so than our last few records … The vibe is similar to our humble beginnings. It's a step forward but I also think it has glimmers of our past in it … We went with a less-is-more approach on this record. A lot of it is just one guitar rather than overdubs or three or four guitars … We wanted a record that we could easily play live. For the most part, it's pretty bare bones while still sounding full and big.
No release date or title have been announced yet, but we'll keep you posted. The band last released Agony & Irony in 2008, their lone album for major label Epic Records.