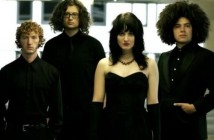 Horror-punk outfit Schoolyard Heroes have called it quits. The band explained their reasons in an interview with The Stranger:

Steve [Bonnell] and Brian [Turner] have kind of phased themselves out over the last year or so, and it'd be weird going on with them. So our Home for the Horrordays show is going to be our last one. This band has been the only thing that we've thought about, and done every day for the last 10 years and now it's gonna be done.
Their final show, "Home for the Horrordays" is Saturday, December 19th, at El Corazon Seattle with Schoolyard Heroes, These Arms Are Snakes, Kane Hodder, Sirens Sister, and special guests.