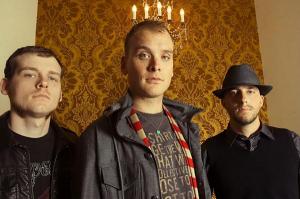 In an interview with Spinner, Alkaline Trio guitarist/vocalist Matt Skiba speaks more about the sonic direction of the band's upcoming seventh album, which will be co-released by Epitaph Records and the band's own label, Heart & Skull. Skiba claimed that the band looked to its hometown of Chicago, IL for inspiration, saying:

"While we were there recording, we saw a lot of old friends we haven't seen in a long time … We've always been big fans of Screeching Weasel, Pegboy and Naked Raygun, our forefathers in the Chicago punk scene. Hanging out with everybody then playing Riot Fest with all these great bands we grew up seeing, I think those influences seeped in a lot more."
Skiba also cites Social Distortion as a big influence on the record, and notes that he wrote eight songs for the album while bassist/vocalist Dan Andriano penned three, among other things. Check out the interview here.
The band's new album is tentatively scheduled for a February 2010 release.