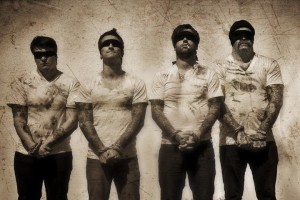 Love 'em or hate 'em, Every Time I Die has been one of the leading bands at the forefront of the metalcore scene this past decade. Their notorious blend of spastic hardcore mixed with an ever evolving Southern rock n' roll swagger has drawn a diverse group of fans over the years. Their new record, New Junk Aesthetic revisits their heavier past and injects new life into a band that's been chugging along with the same ferocious energy they began with. Punknews contributor Matt Pagirsky recently had a chance to speak to front man Keith Buckley about the new album, the departure of their long time drummer, as well as his upcoming engagement and marriage, and the band's future plans for 2010.
The new album, New Junk Aesthetic harkens back to previous albums such as Last Night in Town and Hot Damn, both musically and lyrically. Can you talk about the songwriting process for this record and how it differed from your previous two records?
Keith Buckley: I'm not sure it differed too much. We didn't stress ourselves that much with finding a perfect part. When we went into the studio with Steve Evetts there was so many ideas that we thought were good that ended up getting changed so we just went with what came naturally and put it together the best we could and took it to pre-production and filled in the blanks a little more. We didn't waste a lot of time looking for the perfect riff; it just came naturally.
How was it working with Steve [Evetts]?
Buckley: Great man, he knows our band very well. He kind of knows the vibe we were going for and he has a lot of great ideas as far as vocals go so I love sitting with him and experimenting with stuff.
What have been some of your favorite new songs to play and experiment with on this tour?
Buckley: Well it's tough, we have a new drummer so he doesn't know a lot of songs. I love playing "Roman Holiday," it's a good opener. "Wanderlust" is very trying because there are so many vocal changes suddenly, so it's good for me though because it's challenging.
How has Ryan [new drummer] been doing so far?
Buckley: Amazing, everyone loves him and he's getting along with everybody. It's weird having a drummer that actually hangs out and socializes with other bands.
I know it might be a sore subject with Ratboy leaving. Was that a mutual decision?
Buckley: It was kind of like, "hey we can tell you don't care about the band anymore so do us all a favor and quit now." There were a few things, all little minute shit that led up to the whole explosion.
Do you keep in touch with him at all?
Buckley: Nah, he's just doing whatever he does so I don't know. It happens. We're sharing a bus and a van for twelve years so it's bound to happen.
Your lyrics to me at least have always been a very integral part of your music, very vivid and imaginative. A lot of the lyrics on this album seem to be more introspective and a bit self-deprecating even. What were you going through at the time while writing the lyrics?
Buckley: Well I tend to kind of do this with every album, but more so with it being our first release on Epitaph, I was very much in the school of thought of "I just don't have it in me anymore." My one job was to write lyrics and I was battling with it for so long. So that's where the self-deprecation came from, but in another sense it's because I had gotten engaged recently and getting married in a few weeks so there was that whole thing of like cleansing myself and how I feel about all the shit I've done and how things are going to change and hopefully I have the strength to do that. I was realizing that there was going to be a very important event happening that was going to shift my life 180 degrees. I have a date set for that so I know it's coming. It's not an accident; it's not a miracle. Seeing that coming builds up.
I read in a recent Alternative Press article that the new song "After One Quarter of a Revolution" had to do with a situation that happened with the band while in the studio, sort of like an epiphany. Can you explain that a little more?
Buckley: You know it was just Ratboy drama. It was Ratboy's girlfriend's drama. It made me realize a lot of things about myself and the people I care about who were being personally offended and insulted. I had sort of realized that I cared a lot more about people that I had let on. So when that split happened, it was me getting in touch with a lot of the people that had been hurt for so long due to things that were perpetuated.
With you getting engaged and married soon and all that, you guys have been a band for about twelve years now, has there ever been a time when you've been like "we need to slow down, we need to take a breather?"
Buckley: Yeah, I mean, we're lucky. Jordan just got engaged too and we're lucky enough to have fiancés that understand what we're doing and came into this situation knowing exactly what to expect so yeah, they're very supportive. I mean obviously it's not just "I'm going to do it as long as she supports me". Of course I would like to spend more time at home, but at the same time it keeps things fresh and prevents it from stagnating to the point where it's like "ugh I see this person every fucking day." I think it's going to keep the honeymoon period going for longer.
You guys signed to Epitaph a few months ago now and released your new album through them, and it seems the label itself has been really diversifying lately, picking up some great "veteran" acts such as Thursday, New Found Glory, Converge. How does it feel to be on the label with some of these older acts?
Buckley: It's been great actually. I remember when they signed Converge it was like this must be the perfect label. They already had the pop-punk stuff like New Found Glory, which was an integral part of my growing up and then Converge, which was integral but on the other side of the coin. So to share a roster with bands like that, plus it's Brett Gurewitz from fucking Bad Religion. I listened to them and got introduced to them in like 7th and 8th grade, so being a part of all these things that influenced me makes me realize that I might be part of something that people look at as influencing them too.
As a kid did you ever think this [lifestyle as a band] would ever happen?
Buckley: Not in a million years. The thing is that it comes around so slowly, it's like watching grass grow. If it were "boom I'm in a band and just got signed to Epitaph" it would be like whoa. But now it's so slow that it's like "Oh yea I'm on Epitaph" and then I'll step back and realize "Whoa I'm really on Epitaph, that's fucking awesome!"
I think with a lot of bands nowadays, it's such a quick rise to the top and an even bigger downfall.
Buckley: Yep, the demise is always twice as fast as the rise so you have to be careful of that.
You're currently on a headlining tour with label-mates Bring Me The Horizon, as well as Oh, Sleeper and Architects. How has that been?
Buckley: The shows are really just massive. We have a lot of kids coming out, tonight is sold out which is awesome. It's cool because it's positive reinforcement from the record because it's like kids must like it if they're coming out and seeing us. If we put the record out and all of a sudden nobody was sticking around for us, it'd be like "ehhhh, should've wrote a better record."
You're going to be heading out on the European leg of the Taste of Chaos tour soon with Killswitch Engage and In Flames. I know you've toured with Killswitch before. Are you excited for that? Any particular stops you're looking forward to?
Buckley: Yeah, we're going to be heading to Scandinavia and Norway we've never been to before so it should be very interesting. I don't know what the weather is like during those months, but it seems like a very depressing time so it should be fitting. It should be good to see the guys in Killswitch again, we've been on tour with them so much so it should be cool and a good time.
Speaking of some heavier bands, what are some of your favorite heavy bands that are still around now doing their thing?
Buckley: Absolutely Converge, Dillinger Escape Plan, Poison The Well, Unearth is still doing it. It's awesome. It's crazy because thanks to the Internet socializing and networking we've been in touch with the guys in Coalesce and we're trying to do some shows together. Those guys, same thing, they're up there.
I would kill to see that.
Buckley: It's cool, there's still people in this scene that have been doing this for so long that we haven't met yet so it's exciting to be talking to Sean Ingram and being like "what's up."
Have you listened to the new Converge album yet? What do you think?
Buckley: Oh I absolutely love it. It's a face melter. It's so fast. But then there's the really good, slow, sludgy stuff.
You guys have been doing some pretty cool unique stuff lately, like the "Easy Tigers in Denim" bike run through California. How did that go?
Buckley: It was great. It was perfect. It was me, a friend of mine had gotten a motorcycle, our documentarian rode on the back. Jordan had his Vespa out so we were all just cruising down the Pacific Coast Highway. We got a lot of great footage. Actually just in my pocket right now I have the first take of the segment that they put together.
It's coming out as a documentary sort of thing?
Buckley: It's coming out on the next DVD. So we're kind of filming that. We've been filming for that the past few years.
Do you have any release date for that?
Buckley: I think what we're going to do, since we just confirmed an Australian tour I think we're going to take our dude with us to Australia and do some footage there. That starts January 12th.
Any other plans in 2010 beyond that?
Buckley: Hopefully after Australia we go right to Japan and then come back in March and do a tour with Four Year Strong.
Any other final comments, words of inspiration?
Buckley: We have a significant amount of time off from the states after this tour, so I just hope that interest brews while we're gone.
I'm sure it will.