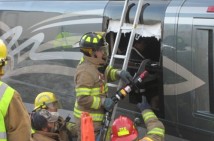 Weezer frontman Rivers Cuomo was in hospital as of Sunday night following a bus accident in upstate New York. Source are reporting that the driver lost control of the bus after hitting a patch of ice on the New York State Thruway. According to the driver the vehicle slid into the median then crossed back over the road, over the guardrail and into a ditch. The bus contained Rivers, his wife and daughter, their nanny, and Rivers' assistant Sarah. Both Sarah and Rivers' wife were thrown from upper level bunks onto the floor 5 feet below. Rivers' wife was uninjured, but Sarah sustained two fractured ribs and a fractured lower vertebrae. Rivers' daughter was in her crib and was unharmed. The nanny was also unhurt. Rivers was in the back lounge of the bus and was tossed around violently. He suffered from three cracked ribs as well as mostly minor but painful internal damage. His lower leg was also injured. Cuomo and the Sarah were taken to St. Mary's Hospital in Amsterdam, New York.
The band's tour looks to be cancelled. Their website reported:

We are sorry to say that the rest of the December Raditude Tour has been cancelled - when we can reschedule the dates we will, of course. I have no ticket or refund or whatever info at this time, but stay tuned to this site and the ticketing websites for more info. For now its a waiting game for all of us. Thanks for your kind thoughts and good wishes, we need them!