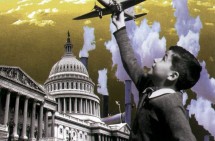 Canadian punk collective Fucked Up recently spoke to Pitchfork about some of the concepts and release plans the band has for 2010.
Frontman Damian Abraham explained how they decided to work with NOFX and how that band's epic, The Decline, influenced their "Year Of…" singles:

To me, that was the first punk song that really broke the time limit barrier. As far as a long song with one major theme, it has definitely been a huge influence on my involvement on these "Years Of" records. Mike would probably say we're influenced by the works of John Cage and some famous techno dude. But for me it's NOFX 100%.
Check out the interview here.