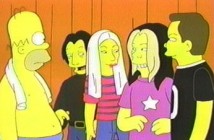 Billy Corgan has released the first song from his ambitious 44-song Smashing Pumpkins release. As he explained previously, the album will be titled Teargarden by Kaleidyscope and is expected to feature 44 songs with each song made available for free, to anyone anywhere.
The band's model for the record is to sell highly limited edition EPs (of four songs each times 11). Corgan promises that the EPs will be more like mini-box sets rather than your normal CD single. When the entire album is finished, it will be compiled into a deluxe box set which will also be made available for sale.
Check out the song here.