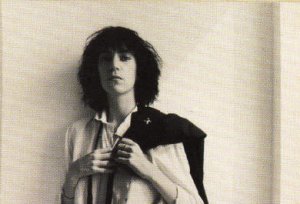 PBS will be airing a documentary about the legendary Patti Smith this month.
The film was shot over 11 years by renowned fashion photographer Steven Sebring, Patti Smith: Dream of Life is an intimate portrait of the legendary rocker, poet and artist. Following Smith's personal reflections over a decade, the film explores her many art forms and the friends and poets who inspired her -- William Burroughs, Allen Ginsberg, Bob Dylan, Robert Mapplethorpe and Michael Stipe.
The film exposes the link between the original beat poets, punks and modern music. It features rare performance clips and is frequently narrated by Smith herself.
The national airdate is December 30, 2009 at 9 PM but PBS affiliates can vary the time so please check here for the schedule. You can also find more information via the PBS POV website.