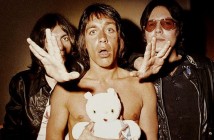 The Stooges have been added to the Rock and Roll Hall of Fame organizers announced today. The news comes after the band's record seven previous nominations over the past decade. They will be inducted alongside ABBA, Genesis, the Hollies and Jimmy Cliff at a ceremony to be held March 15 at New York City's Waldorf Astoria hotel.
Frontman Iggy Pop spoke to Rolling Stone:

We've been rejected seven times, and we would have set a record, I think, if it happened again. It started to feel like Charlie Brown and the football. I had about two hours of a strong emotional reaction after hearing the news. It felt like vindication. Then I kind of scratched my head and thought, 'Am I still cool? Or is that over now?'
The band released The Weirdness in 2007.