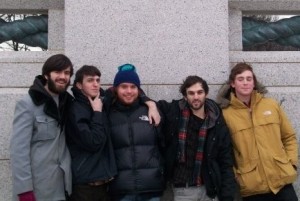 New Jersey five-piece Titus Andronicus have announced details on their sophomore full-length follow up to 2008's The Airing of Grievances. The 10 song collection is a concept album of sorts about the Civil War (not the one with Captain America and Iron Man, the other one [the real, American one -ed.]) and will be titled The Monitor. In the press release vocalist Patrick Stickles comments:

It doesn't take place in olden times, nor does it necessarily feature any characters that participated in that conflict… Really, it is a record about how the conflicts that led our nation into that great calamity remain unresolved, and the effect that this ongoing division has on our personal relationships and our behavior and how they're all out to get us (or maybe not?) and yadda yadda yadda.
Despite his claims that the record doesn't feature any historical figures, the band's publicist unveiled spoken word guests apperances, including the Hold Steady's Craig Finn portraying Walt Whitman and Vivian Girls' Cassie Ramone standing in for Jefferson Davis. XL Recordings will release the record on March 9th, with a 7" for the single Four Score and Seven arriving a month earlier.
"A More Perfect Union" 

"Titus Andronicus Forever" 

"No Future Part Three: Escape From No Future" 

"Richard II" 

"A Pot in Which to Piss" 

"Four Score and Seven" 

"Theme From 'Cheers'" 

"To Old Friends and New" 

"…And Ever" 

"The Battle of Hampton Roads"