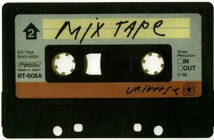 Times Online has posted an article detailing the staying power of the cassette format. Among the folks interviewed for the piece was Thurston Moore of Sonic Youth, who added:

"That friction of the tape against the head is unbeatable. Then you've got the aesthetic difference. You find a mixtape that someone has made for you, and there is no mistaking the amount of care and affection that has gone into it."
Moore released a book in 2005 entitled Mix Tape: The Art of Cassette Culture in which he opined that he considers the cassette "the most personal of all formats". Check out the article here.