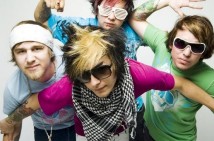 The Village Voice has created a list of the fifty worst songs of the decade, including entries from James Blunt, Xiu Xiu, Nickelback, Weezer, Beastie Boys, and Crazy Frog. Counting Crows took the number one slot with their cover of "Big Yellow Taxi," but the Voice also had beef with brokeNCYDE and used some inflammatory language, which has been included here for posterity's sake:

Bands like brokeNCYDE and electro-doofus earthstains like 3OH!3 are essentially excuses for rich white kids to play dress-up with the most sexist and materialistic elements of hip-hop--pretty much a minstrel show in crooked haircuts.
You can view the entire list here, at the bottom of their entry for number one.