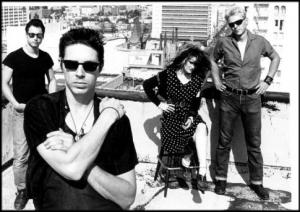 Exene Cervenka of X recently spoke with the Sacramento Press about the possibility of a new record from the veteran band. The group recently recorded a pair of Christmas standards at guitarist Billy Zoom's studio but haven't released a proper full length since 1993's Hey Zeus!. She commented:

I think the only hang-up is that John and I just haven't made time to stay at each other's house for a week and write songs together, or go spend the day in downtown Los Angeles, hanging out… I would love to [make a record with X] at this late stage in the game because it would prove something to me that I've always wanted to prove. I've always wanted to prove a lot of things to myself, but one of those things is that artists don't always suck as they get older.
Exene Cervenka was diagnosed with multiple sclerosis earlier this year and also released her new solo record Somewhere Gone on Bloodshot Records. X frontman John Doe recently released his Country Club collaboration with Toronto's Sadies. The band performed at Coachella in April, England's All Tomorrow's Parties in May, and on an all-requests tour earlier this year. They're in the midst of wrapping up some holiday shows.