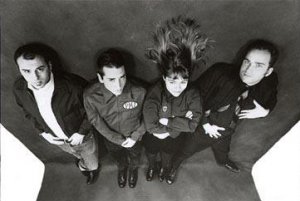 BrooklynVegan recently conducted an extensive interview with J. Robbins. In it, Robbins opines about several topics, including how the recent Jawbox reunion came about and whether or not the band has any plans to expand said reunion:

"But I think Kim was the most skeptical about doing this and then when we rehearsed It was just super fun and it all just flowed. But basically no, there's no plan (laughs). I'm highly doubtful that we'll do anything else."
Robbins also gives his view of the current state of punk and hardcore, saying:

"I believe Paint It Black is a great hardcore band, a great band, period. They have the right spirit. I think anything that Ryan Patterson (Coliseum) does, or Evan Patterson (Young Widows) does… I mean I know those guys well enough to know where their heart is and they're absolutely coming from a great place. They always make really cool music. "
Robbins also speaks about a solo record that's been in the pipeline for nearly a year, his production work, and gives an update on the health of his son, Callum. Check out the interview here.
Jawbox recently reunited for a performance on Late Night with Jimmy Fallon in conjunction with the vinyl reissue of their seminal 1994 album, For Your Own Special Sweetheart.