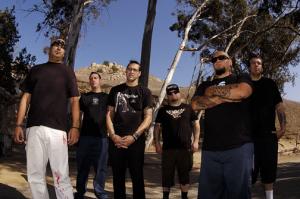 Voodoo Glow Skulls have announced the departure of founding drummer Jerry O'Neill, who has left the band for undisclosed personal reasons. His spot behind the kit will be filled by Chris Dalley, who most recently played in Death By Stereo. The band is hard at work on their follow up to 2007's Southern California Street Music, a record which they will release independently. The band's relationship with longtime label Victory Records appears to have ended:

We have been working on our latest and newest musical project for over a year now, and in between tours. Once again, it is being recorded at our very own Dog Run Studios, and with our guitarist, Eddie. We're putting the finishing touches on the new album now, and we anticipate the new release in mid-March of 2010. There's no title yet, and the album will be self-released on our very own record label, California Street Music.

We are no longer on Victory Records, and we're going to release it ourselves in true D.I.Y. fashion! The new album will be available digitally online directly through our website, and for a minimum donation. It will also be available at all the usual online retail outlets. And limited pressings of Vinyl & Cd's will be available directly through the band both online, and at the shows only.
The band is in the process of announcing tour dates via its MySpace page.