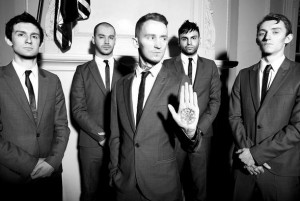 Guardian has published an interesting article about Gallows and their brief stint on major label Warner Bros. The band's lone album for the label, 2009's Grey Britain, was generally received positively by critics, but according to the article has only sold 50,000 copies worldwide. The article alludes to the 'Great Rock'n Roll Swindle' perpetrated by infamous Sex Pistols manager Malcolm McLaren and suggests that the band are better off for having such a short stay on the label:

"Spiritual forefathers such as Black Flag, Crass and Concrete Sox might have rightly railed against the establishment, but major-record deals were never an option for them. Gallows did the right thing. Knowing they could never be Green Day they took the money, toured the world and recorded an album so brutal no one could ever accuse them of selling out."
Check out the article here.