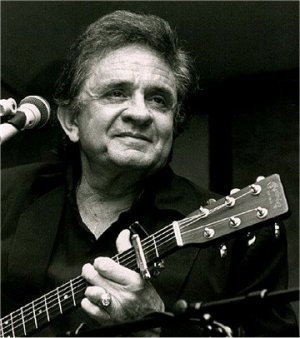 The final album from Johnny Cash has been detailed. The record is titled American VI: Ain't No Grave and it's due out February 26, 2010, on what would've been the late performer's 78th birthday. Like the previous five American Recordings volumes, American VI was produced by Rick Rubin. Guest musicians appearing on the album include Matt Sweeney and Smokey Hormel, and the title track features appearances from Scott and Seth Avett of The Avett Brothers.
American VI will also feature a plethora of cover songs from Cash, including Sheryl Crow's "Redemption Day," Kris Kristofferson's "For The Good Times," Tom Paxton's "Can't Help But Wonder Where I'm Bound", Bob Nolan's "Cool Water," Ed McCurdy's "Last Night I had the Strangest Dream", J.H. Red Hayes and Jack Rhodes's "Satisfied Mind," and Queen Lili'uokalani's song of farewell, "Aloha Oe." In addition to those, the album will also see the release of "I Corinthians: 15:55", a new original from Cash written over the final three years of his life.
Cash passed away on September 12, 2003. His first posthumous full-length, American V: A Hundred Highways was released in 2006.