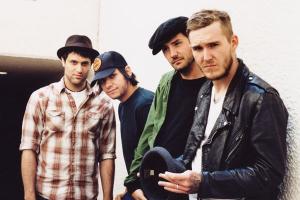 In an interview with Express Night Out, Brian Fallon of the Gaslight Anthem revealed that the title of the band's upcoming full length will be American Slang. The frontman of the popular New Jersey-based group explained what fans can expect from the record:

There are no names and none of the old stuff. I feel like I've said a lot of what I had to say about that old stuff. I'm moving on. … ['American Slang'] is a hyper-literal album. These stories are coming out of my life and the reflections on the things I've gotten as I've gotten older. It's more autobiographical, definitely more direct. Not so shrouded in mystery. I'm not trying to confuse anyone with a trail of images on this one.
The album, which follows up 2008's The '59 Sound, is set for a June 15th release.