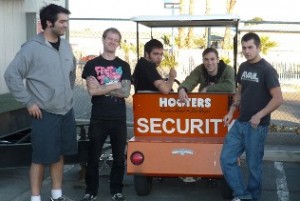 Off with Their Heads have detailed two new releases in the pipeline. First will be a split 6" record with hardcore supergroup and labelmates No Friends; OWTH will be covering "Field of Darkness", originally by Pegboy, while No Friends will be offering their take on the Dag Nasty classic ''Another Wrong" on their side.
The second release will be a split 7" with Detournement; each band will contribute one original acoustic track and one cover song. For this release, OWTH will cover "Princess", originally by Panthro UK United 13, while Detournement will put their spin on Tracy Chapman's "Talkin' Bout a Revolution." Both records will be released by No Idea Records.
The band has also announced even more tour dates alongside The Slow Death (formerly Pretty Boy Thorson and the Falling Angels), The Queers, Dear Landlord and Cobra Skulls.
| DATE | CITY | VENUE | DETAILS |
| --- | --- | --- | --- |
| February 3, 2010 | Green Bay, WI | Baba Louie's | The Slow Death |
| February 4, 2010 | Madison, WI | The Frequency | The Slow Death |
| February 5, 2010 | Indianapolis, IN | ES Jungle | The Slow Death (early show - 7 PM) |
| February 5, 2010 | Indianapolis, IN | The Vollrath Tavern | The Slow Death (late show - 9:30 PM) |
| February 6, 2010 | Grand Rapids, MI | Mulligan's Pub | The Slow Death |
| February 7, 2010 | Columbus, OH | Bernie's Distillery | The Slow Death |
| February 8, 2010 | Rochester, NY | The Bug Jar | The Slow Death |
| February 9, 2010 | Endictott, NY | The Death Trap | The Slow Death |
| February 10, 2010 | Albany, NY | Odd Fellows Hall | The Slow Death |
| February 11, 2010 | Hartford, CT | The Charter Oak Cultural Center | The Slow Death |
| February 12, 2010 | Asbury Park, NJ | Asbury Lanes | The Slow Death |
| February 13, 2010 | Baltimore, MD | Golden West Cafe | The Slow Death |
| February 14, 2010 | Richmond, VA | Gallery 5 | The Slow Death |
| February 16, 2010 | Spartanburg, SC | Ground Zero | The Slow Death |
| February 17, 2010 | Chattanooga, TN | JJ's Bohemia | The Queers |
| February 18, 2010 | Newport, KY | The Southgate House | The Queers |
| February 19, 2010 | Toledo, OH | Frankie's | The Queers |
| February 20, 2010 | London, ON | Call The office | The Queers |
| February 21, 2010 | Toronto, ON | Horse Shoe Tavern | The Queers |
| February 22, 2010 | Ottawa, ON | Maverick's | The Queers |
| February 23, 2010 | Quebec, QC | L'Agitee | The Queers |
| February 24, 2010 | Montreal, QC | Les Foufounes Electriques | The Queers |
| February 25, 2010 | St. Catharines, ON | Mikado | The Queers |
| February 26, 2010 | Buffalo, NY | The Mohawk Place | The Queers |
| February 27, 2010 | Wilkes-Barre, PA | Cafe Metropolis | The Queers |
| February 28, 2010 | Washington, DC | The Black Cat - Backstage | The Queers |
| March 1, 2010 | Johnson City, TN | The Hideaway | The Queers |
| March 3, 2010 | Atlanta, GA | The Drunken Unicorn | Dear Landlord |
| March 4, 2010 | Tampa, FL | Transitions Art Gallery | Dear Landlord |
| March 5, 2010 | Gainesville, FL | The Atlantic | Dear Landlord |
| March 7, 2010 | Orlando, FL | Backbooth | Dear Landlord |
| March 12-14, 2010 | St. Augustine, FL | Harvest of Hope Fest | |
| March 17, 2010 | New Orleans, LA | The Big Top | Cobra Skulls |