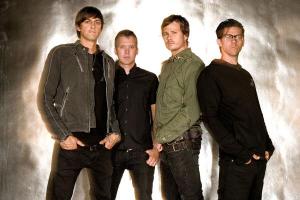 Angels and Airwaves spoke to Billboard about their upcoming album, Love, which is due out February 14, 2010. According to the report, frontman Tom DeLonge has been self-funding the record to the tune of a personal commitment of about $500,000. The record will be released digitally for free and the band hopes to recoup through corporate sponsorships, touring, merchandise sales, premium exclusive tracks and videos on the band's Web site and by selling a deluxe version of "Love" with 30 minutes of exclusive bonus material.
Delonge had originally hoped to provide the free download in partnership with the band's label, Geffen, but could not come to an agreement and so the record is being self-released. Tom explained the self-releasing and notes that he retains ownership of the masters and publishing for the record:

When you sign with a label early in your career, it's because they have the advantage of investing in your brand,Now it's changed, because the majority of the kids now get their records for free (and) the labels don't have money to invest.
To help market and promote the album, the band partnered with Live Nation, Fuel TV and Hurley to feature the download link on their Web sites and send e-mail blasts tThe combined lists will reach about 55 million people and the band hopes to distribute about 20 million copies of the album.