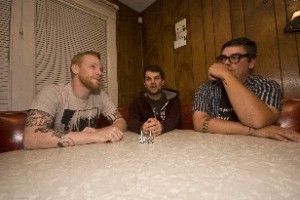 Buffalo, NY's Failures' Union have announced a spring tour of the UK. Joining them will be Cardiff's Bedford Falls.
The two bands will be releasing a split 7" in time for the tour, with each band contributing one original and one cover of the other band. In other vinyl news, Failures' Union has launched a Kickstarter page to raise money to press their 2007 full-length, Sinker, on vinyl. That page can be found here.
The band's new full-length for Paper and Plastick, In What Way, is currently streaming at their Punknews.org page.
| DATE | CITY | VENUE |
| --- | --- | --- |
| March 29, 2010 | Bristol | TBA |
| March 30, 2010 | Exeter | The Cavern |
| April 01, 2010 | Leeds | TBA |
| April 02, 2010 | Newcastle | TBA |
| April 03, 2010 | Glasgow | TBA |
| April 04, 2010 | Liverpool | TBA |
| April 05, 2010 | Manchester | TBA |
| April 06, 2010 | Birmingham | TBA |
| April 07, 2010 | Portsmouth | TBA |
| April 08, 2010 | London | Camden Monarch |
| April 09, 2010 | Newport | Le Pub |
| April 10, 2010 | Swansea | TBA |
| April 11, 2010 | Kingston | TBA |