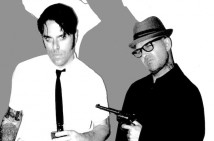 Rancid's Tim Armstrong and director/animator John Roecker (Live Freaky Die Freaky) have unveiled plans to produce a new web series called Svengali. The collaborators explain:

Svengali is a detective show that includes murder, music,sex,intrigue and a drunk detective ( John Roecker) battling it out with the evil professor (Tim Armstrong). The series is an homage to the 1970's detective shows (I.e. Drinking, smoking, not p.c.) of yesteryear but set in 2010 using the city of Los Angeles as a back drop. Shot guerilla style with no permits or taste this is one web series people will never forget. A series so shocking and sexy it will satisfy your bad taste palette more than "cougar town"could! Special guest star jane wiedlin from the go-go's also makes an appearance. The show will run though march. For immature audiences only. You have been warned!
Check out the trailer here.