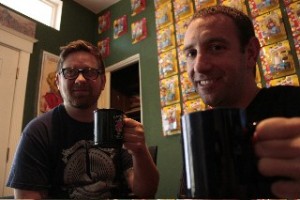 Gainesville's Coffee Project have finished tracking their new self-produced full length Moved On. The duo, which features Less Than Jake's Buddy Schaub and Rehasher's Jake Crown, recorded eleven songs at Schaub's home studio and are currently mixing at Roger Lima's Moat House Studios. A late spring release is expected via Paper and Plastick. Buddy commented:

Jake and I started working on this record back in October of last year, and 75-100 pots of coffee later, we finished recording our last vocal track just yesterday. We tossed around the idea of going to a studio and having someone else turn the knobs this time around, but thankfully we decided to stick to our guns and record everything ourselves in my house. I think Jake and I really took advantage of that while working on this record; we were able to try out some crazy ideas that may have just gotten tossed out if we had been working under the gun.

We really are fortunate to live in a town such as Gainesville that has so many talented musicians. As with the last record, we asked some of our friends to come over and hang out for the afternoon and would bounce ideas around with them. Kim Helm (Whiskey and Co.) came over a couple of times and threw down some sweet harmonies on a few of the songs. Jon Gaunt, who plays fiddle with Chuck Ragan, also laid down some backing bow work on the previously released "Big Trouble In Little Gainesville," which we decided to re-record for this full length, and I think adding his part to the song really took it to a new level. We stole our friend Michael Claytor, who plays in a virtual cornucopia of bands around town, for a couple of hours one day to rip through one of our songs on banjo. By his second time through the song he was nailing it like he'd been practicing for a month solid. He is such a talented guy, has a great voice, and is really amazing by himself with just an acoustic guitar.
Moved On follows up their 10" EP Easy Does It and the digital EP Pickle.