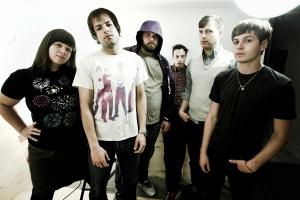 Celebrated Toronto hardcore act Fucked Up has announced a new 7" that will be available as part of Record Store Day on April 17th. The band announced:

Somehow we've never participated in Record Store Day before. We've done lots of instores all over the world, and have had to stop at stores to shop in probably every record store in the free world. This year we decided to do something special for RSD, because we think it's important. This April you'll be able to leave your house and go to a record store and get this cool record. We decided to use our 7" as a tribute to a bunch of cool stores in the US. Ten stores will each be featured with their own cover artwork, using pictures that they sent in to us. The 7" is just gonna be the two daytrotter songs from couple tracks, plus one that isn't on the CD ("Crooked Head").
You can see all eleven covers, along with a lengthy vinyl love letter, at the band's blog. Fucked Up recently collected a bunch of tracks from their prolific 7" output and released them as Couple Tracks: Singles 2002-2009.