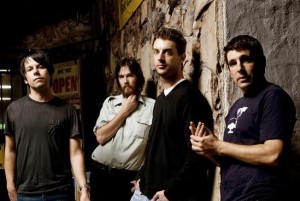 Far will be releasing their first new full length in more than a decade. The record is titled At Night We Live and is due out May 18, 2010. It is the follow-up to Water & Solutions which was released in 1998.
The band includes Jonah Matranga of Gratitude, New End Original, OneLineDrawing and Shaun Lopez of The Revolution Smile and (briefly) Rival Schools. Jonah commented on the record:

I've got ten years of interviews saying this would never happen, that Far would never play together, let alone make a record, so I really have no idea what will happen from here on out. All I know is that I'm really proud of the record, and I think it stands with anything we've made. Really, that's all I cared about as we were making it. This record has some of our heaviest moments, our prettiest moments, our most epic moments, our weirdest moments -- and even with all those twists and turns, I actually think it's the most cohesive record we've ever made.
This month the band will be performing at the Noisepop Festival in San Francisco and San Diego's Indie Fest.