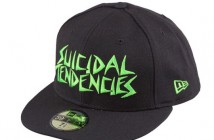 Mike Muir, the frontman of hardcore punk/crossover thrash metal legends Suicidal Tendencies, recently revealed in an interview with FranticMag that the band is planning to release a new album at the end of this year, as well as re-recordings of No Mercy songs and re-recordings of songs from their 1987 album Join the Army.

"We've got two CDs coming out this year. One is a re-make of No Mercy songs, band where Mike Clark and I were in before Clark joined Suicidal. Clark joined after Join The Army, so there's also old songs from "Join the Army". In the fall, we have the actual Suicidal record coming out."
It's been nearly ten years since Suicidal Tendencies released their proper studio album, Free Your Soul and Save My Mind.